Construction
The postings are in reverse order so you don't have to scroll down to read the newest one.
2018-03-10
My last project - a shoving platform:
It started here: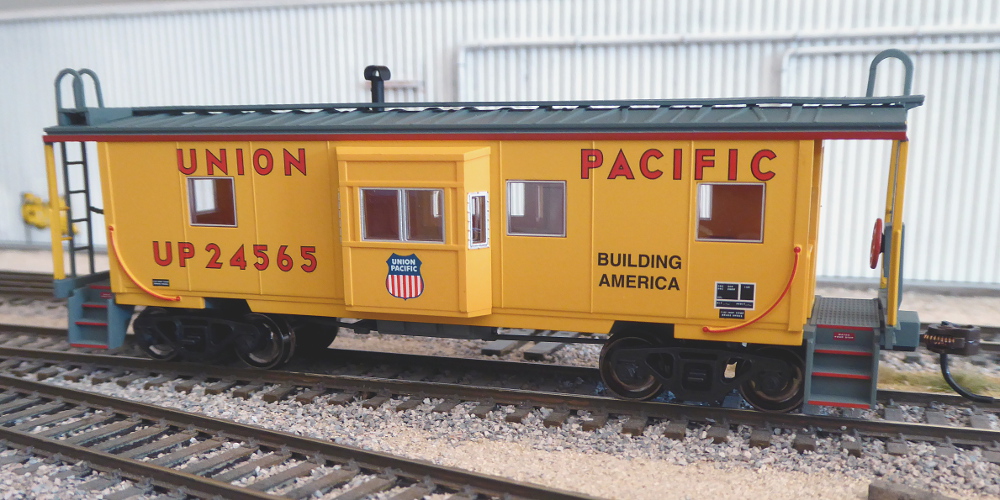 And ended here: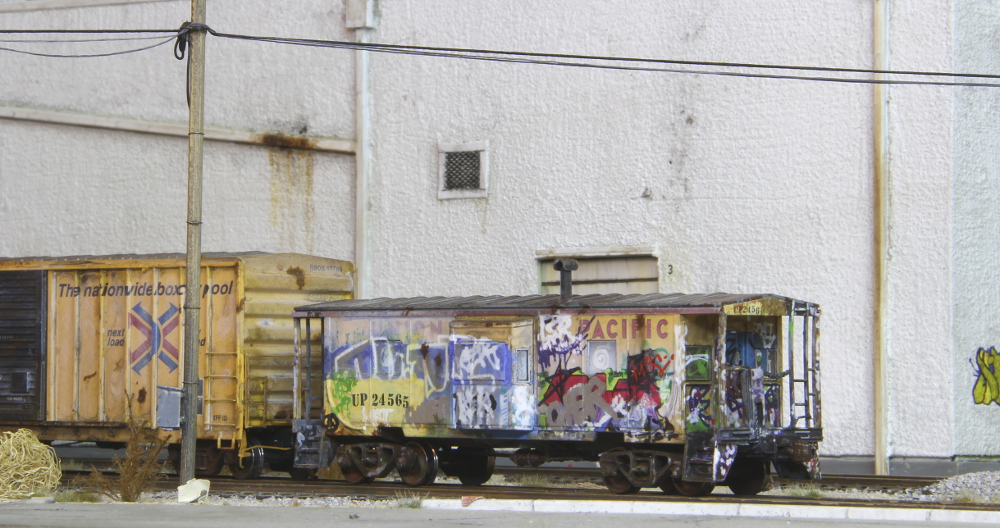 2018-02-13
The Bakery complex was also finished with the last detail still missing - the Corn Syrup unloading. Here a before / after: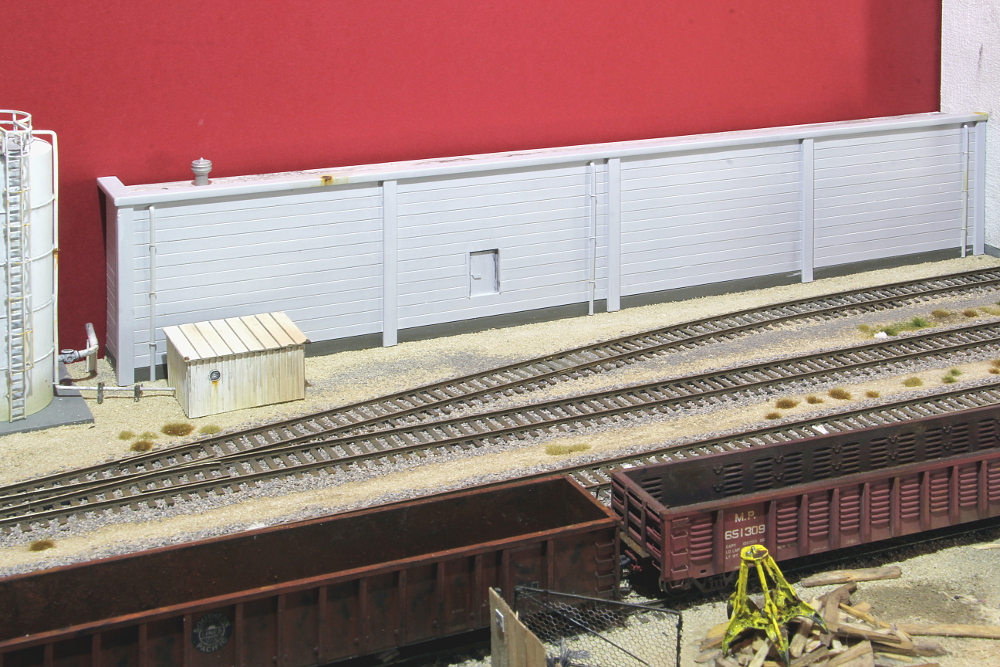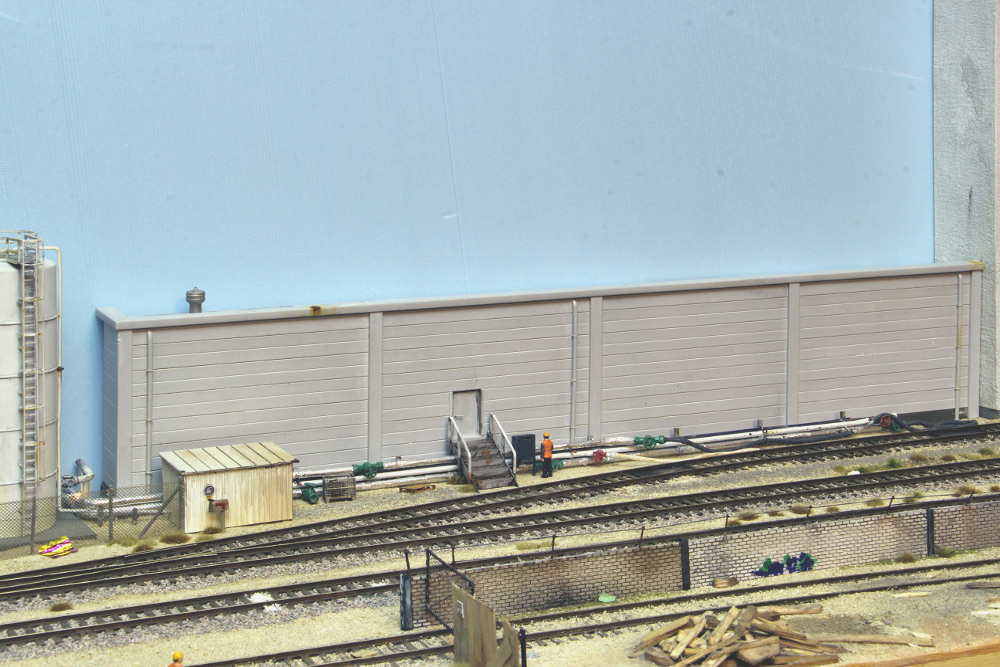 2018-02-12
I finished the last missing building - the stamping factory. Here's a look at the core of the structure: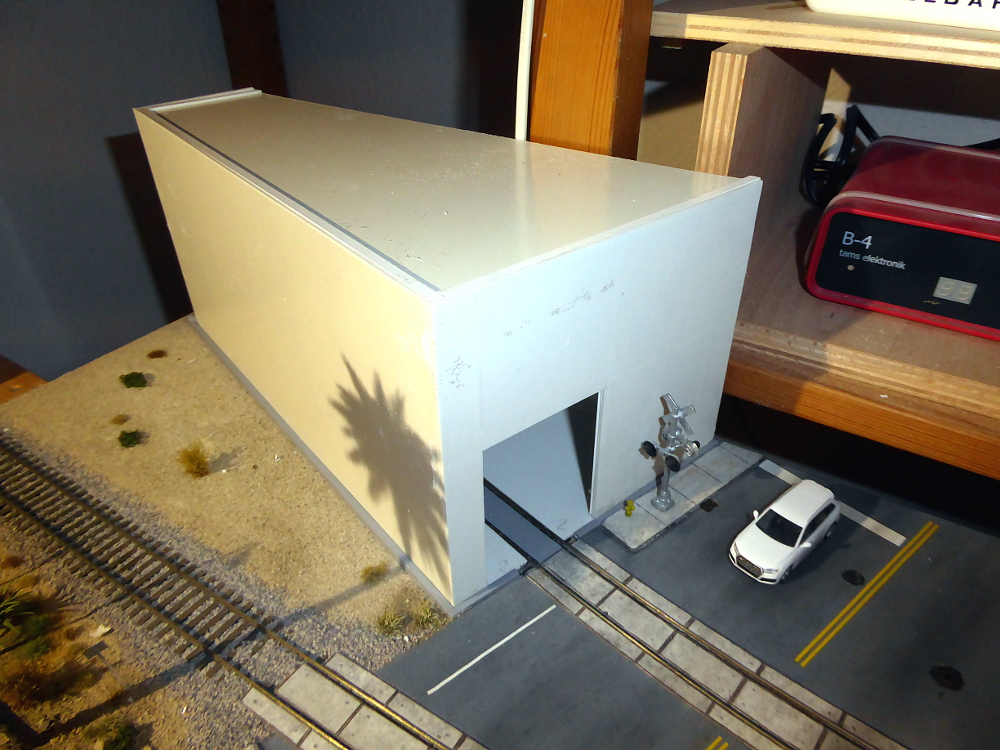 And that's the result in the end: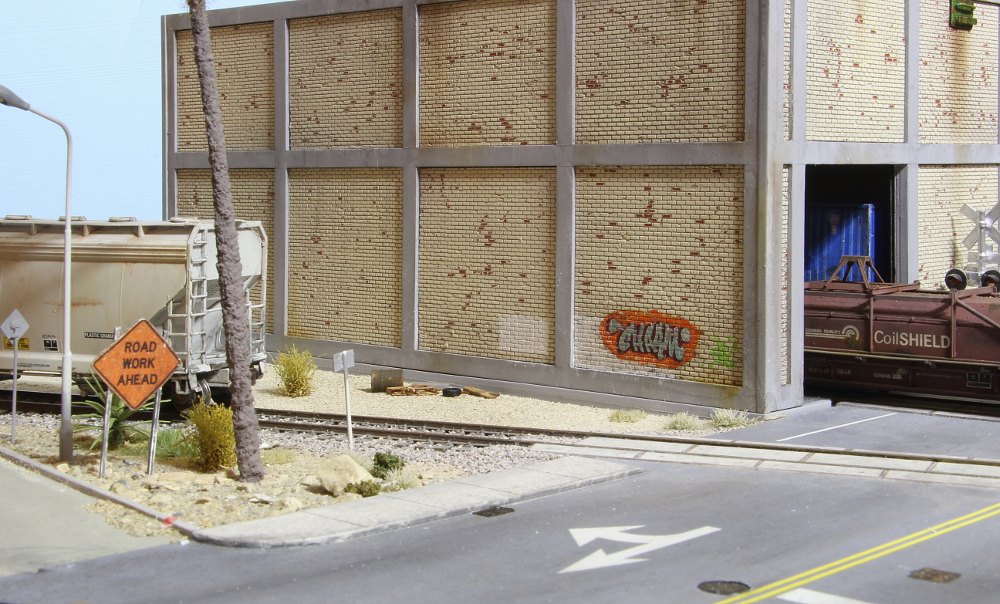 2017-11-23
Just made two new loads for gondolas (removable, as always):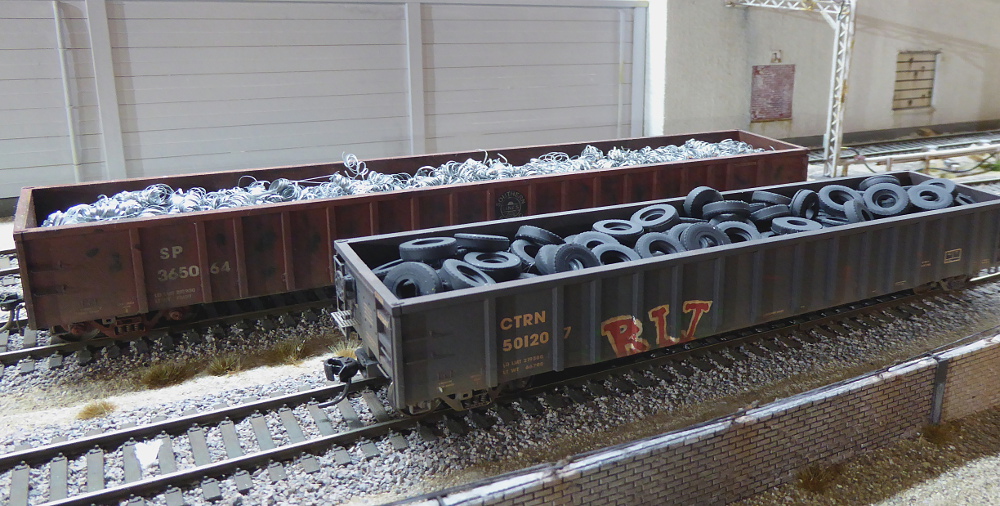 2017-09-26
And more debris pictures: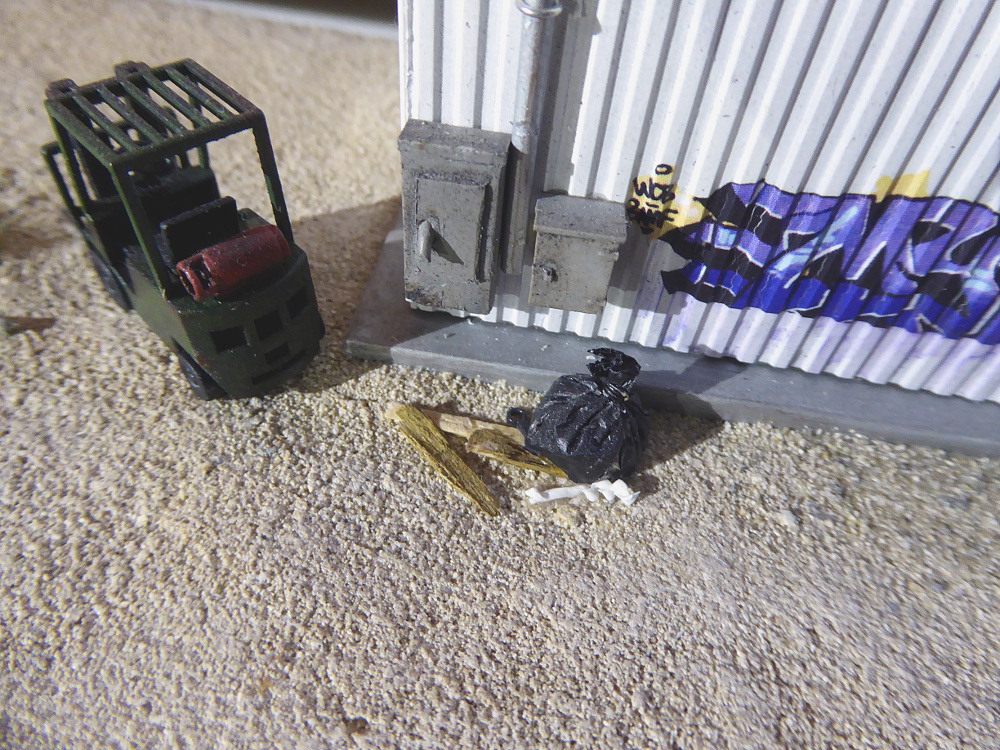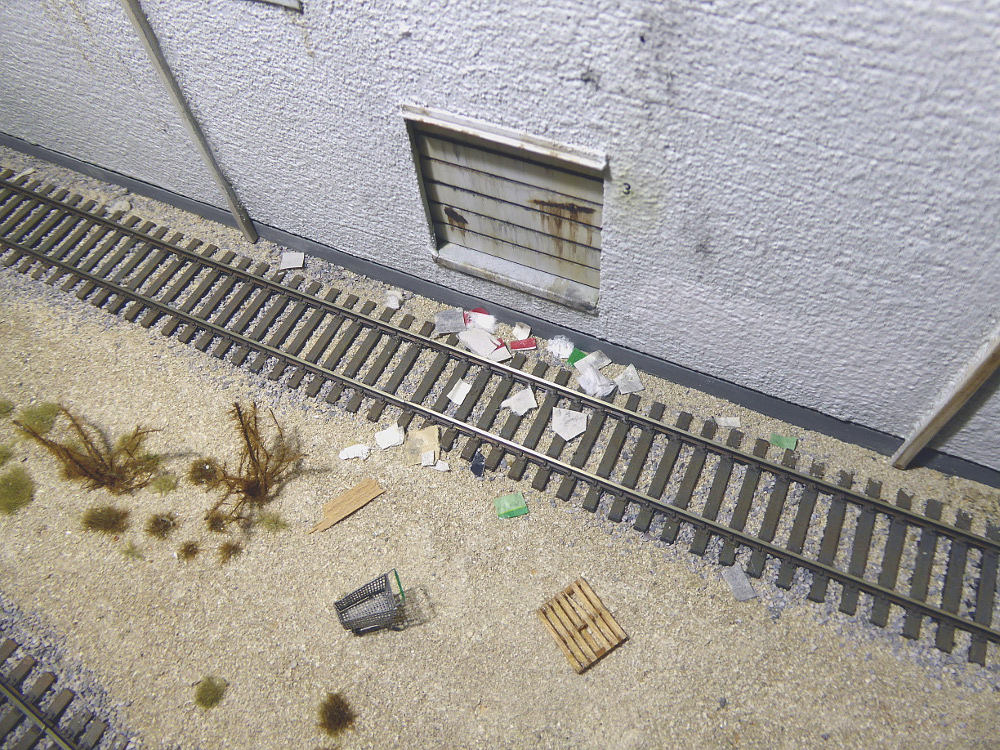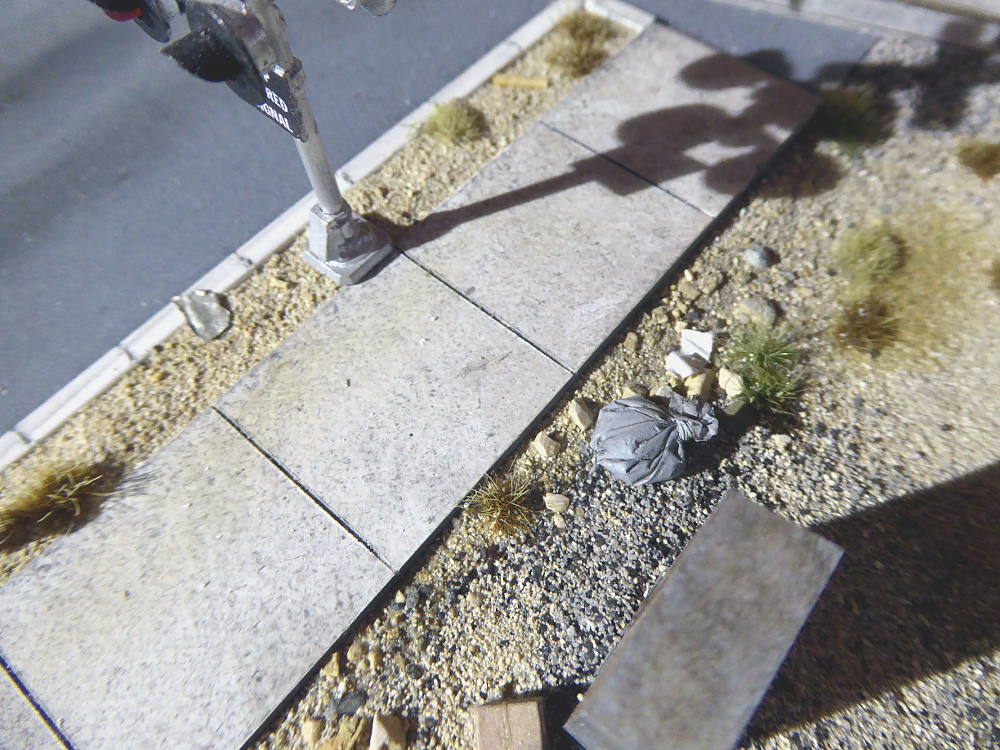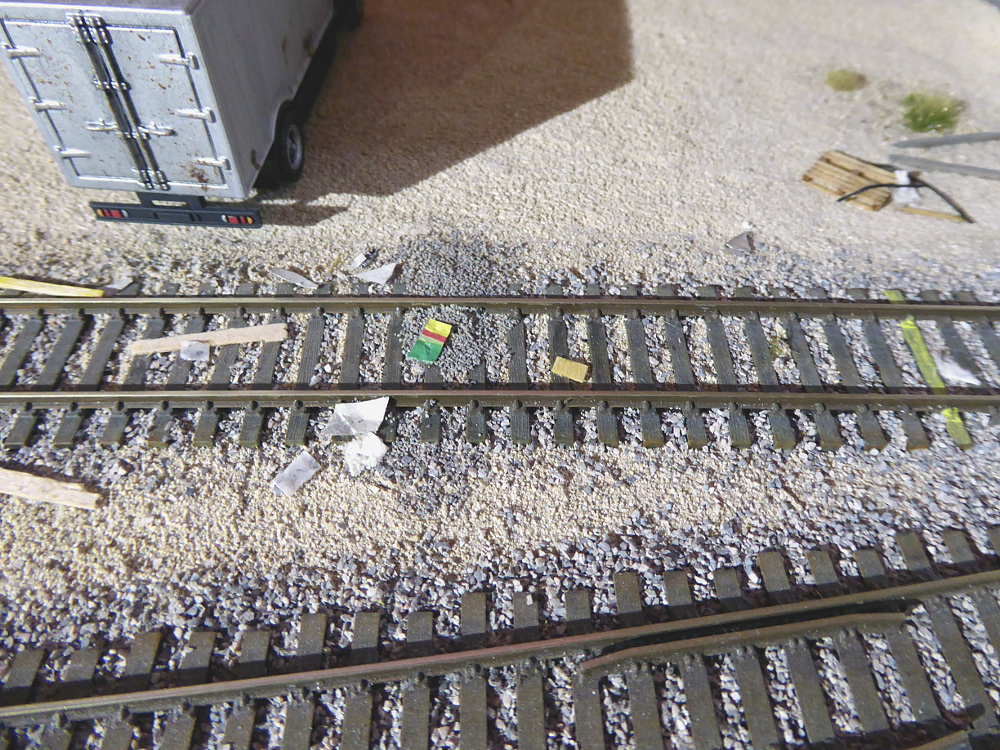 2017-09-25
The scenery shouldn't be too clean - you will discover a lot of bits and pieces looking at these pictures: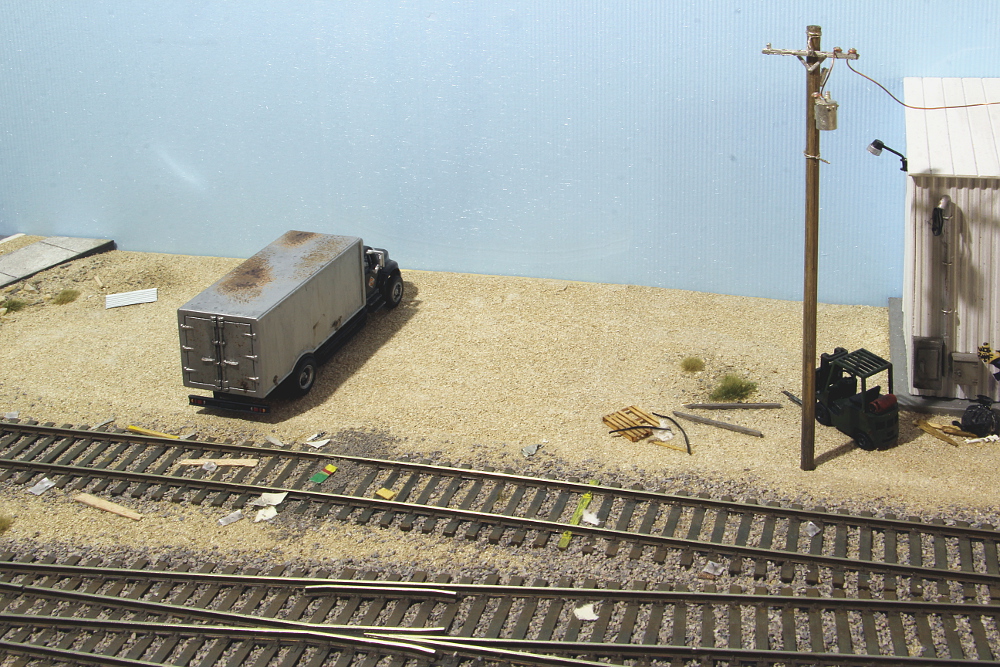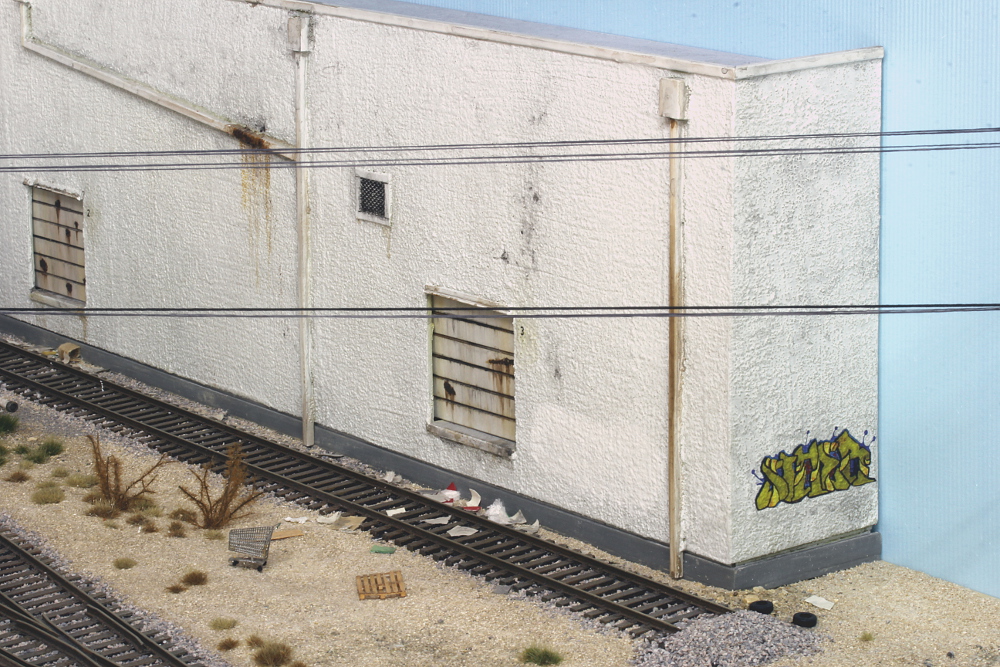 2017-01-28
I'm busy with this scraploader kit: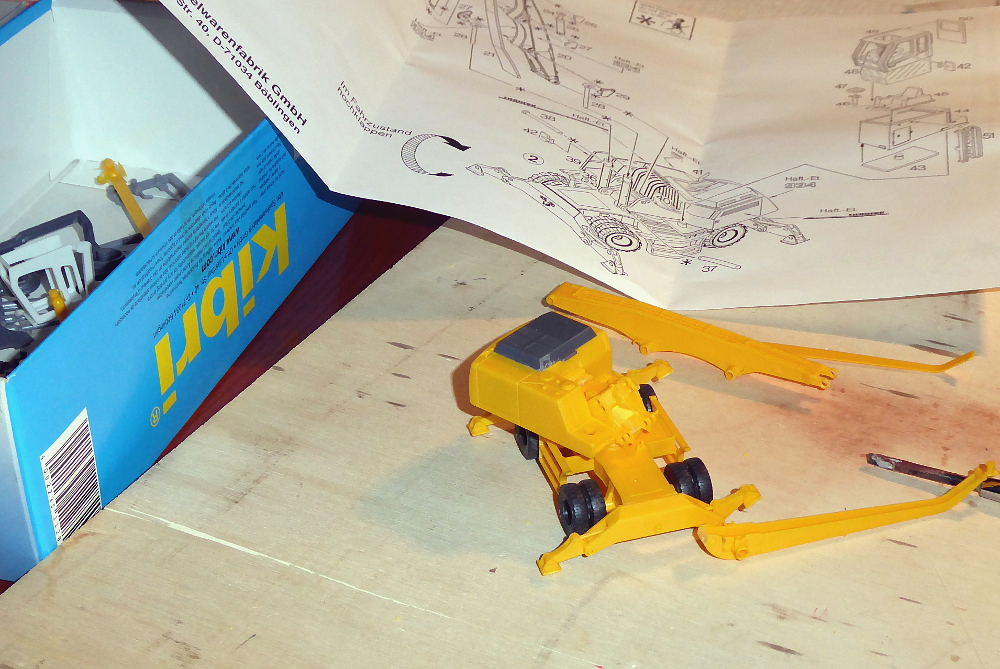 2017-01-21
I call this IKEA-staging: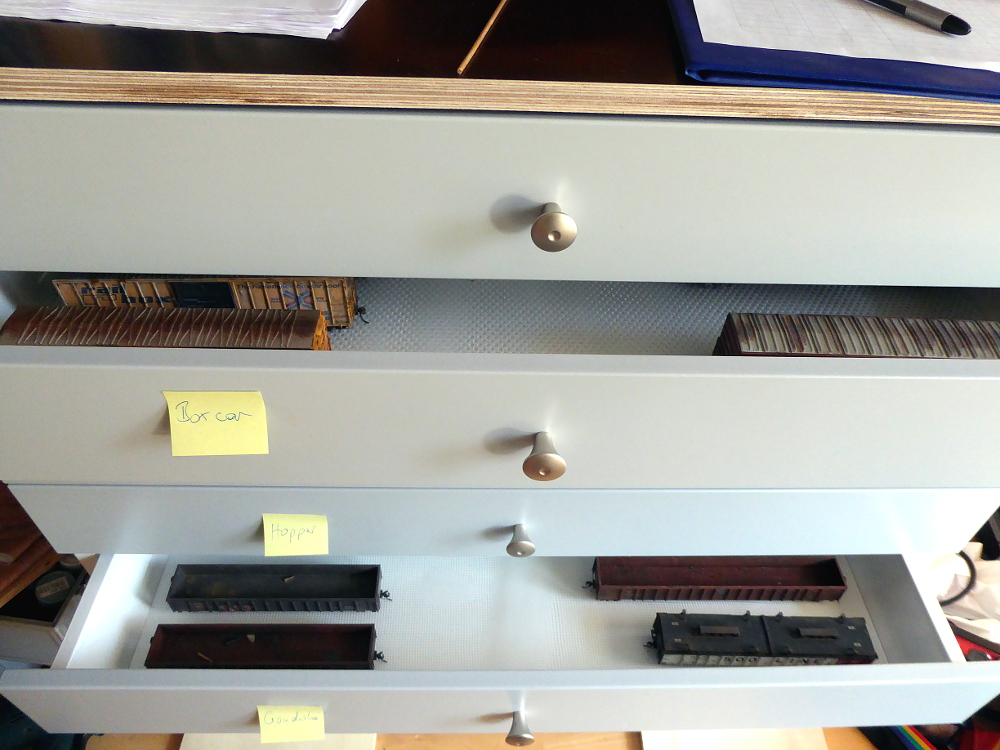 2016-10-29
To do: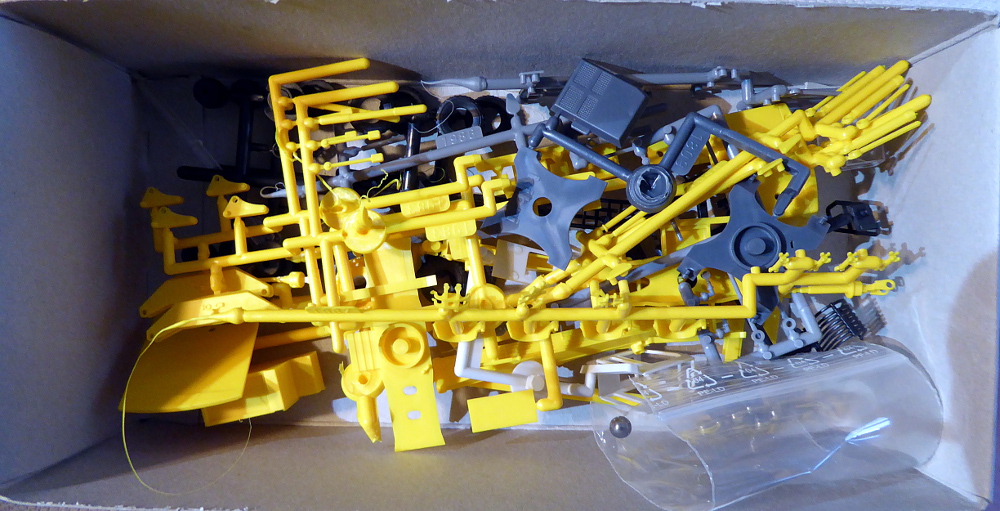 2016-10-20
I recently made some new scrap loads for my gondolas: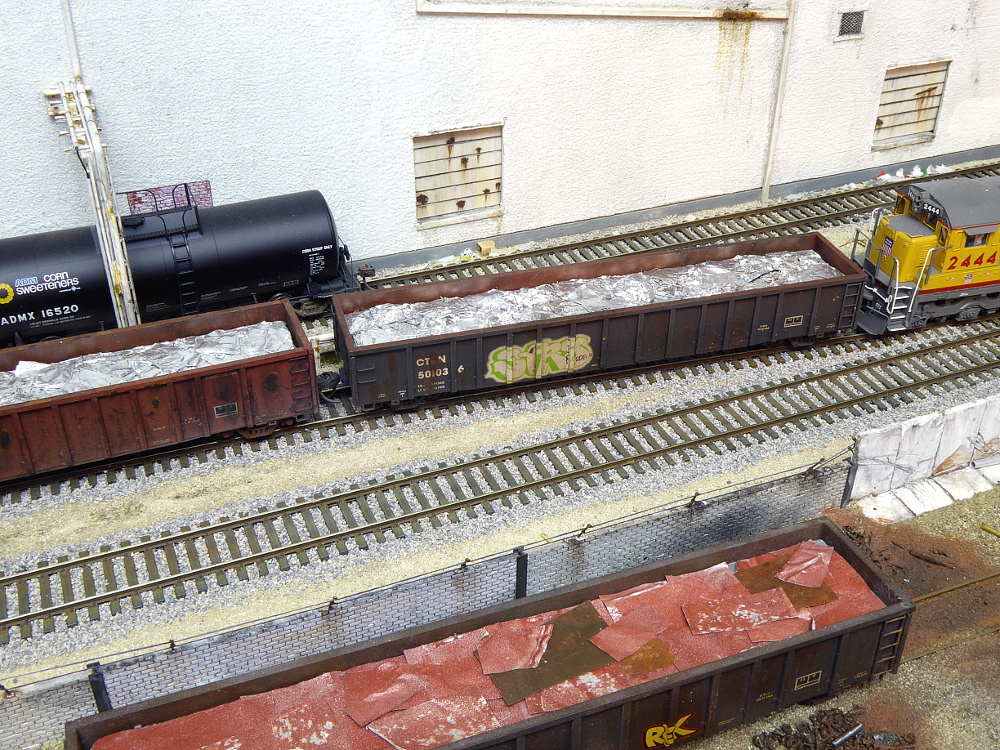 2016-10-12
Who can tell the difference?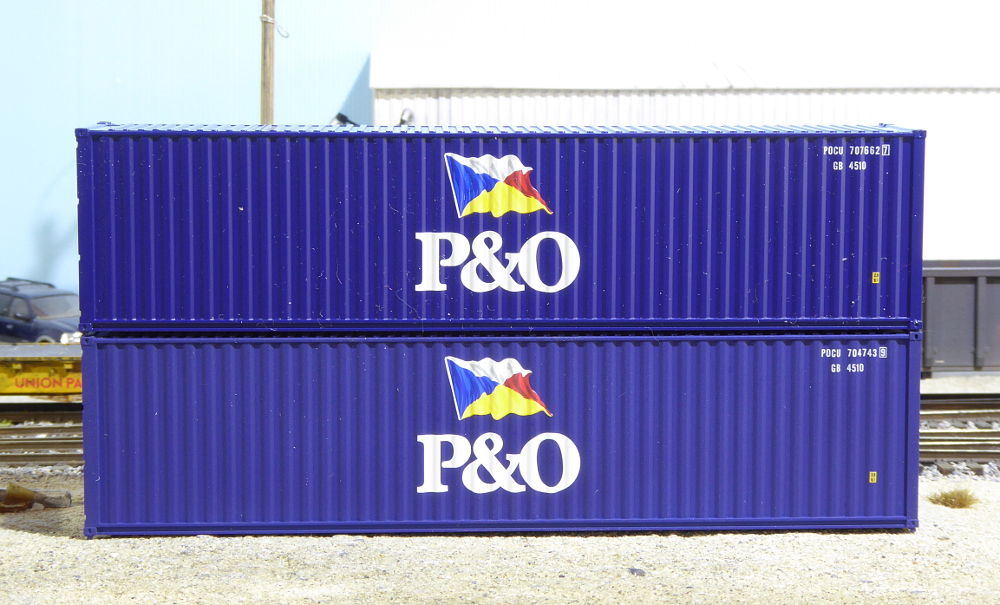 The top container is just out of the box, the bottom container only received a matt acrylic varnish.
2016-10-09
Weathering in progress: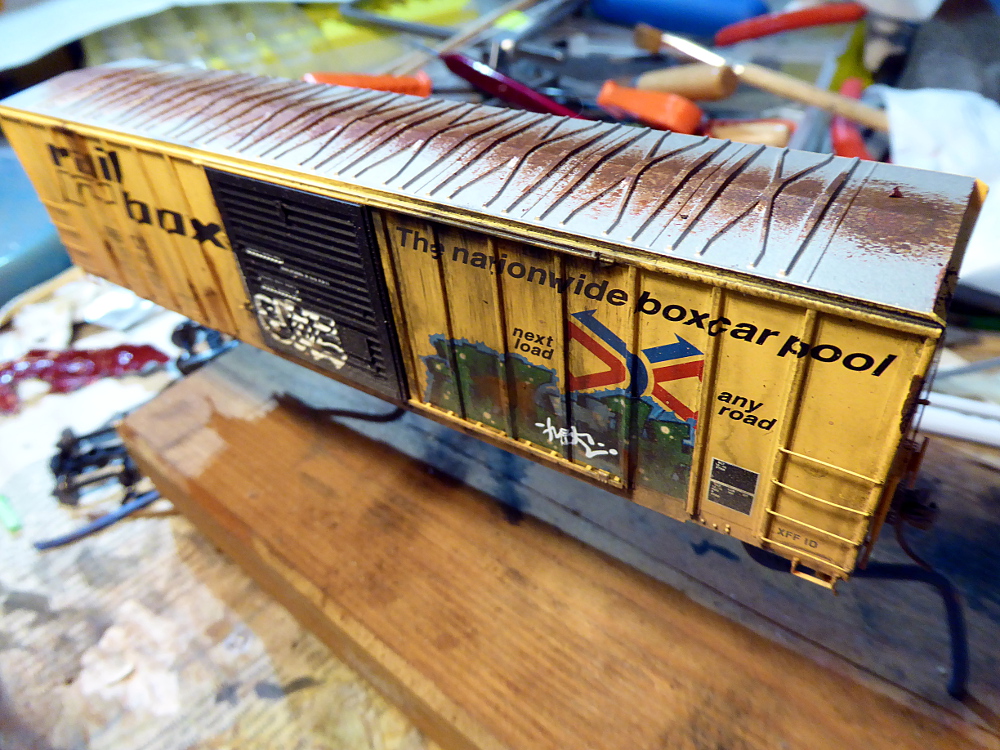 A lot of cars are awaitng their weathering, one is in progress right now. I do not use unweathered cars on my layout: It does not look good and I avoid the cleaning before starting weathering.
2016-02-18
Some interesting little details are scattered trash bags: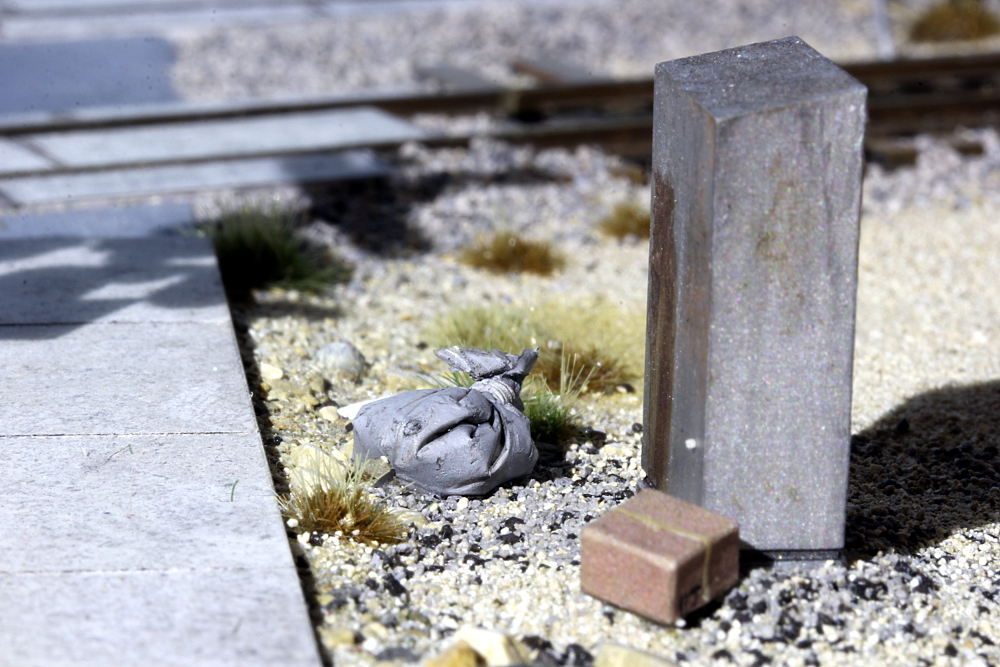 This page explains how they are made.
2016-02-08
I'm working on the storage bin for corn syrup; this is a first shot how it will fit. Some details are still missing, a lot of pipework and coloring too.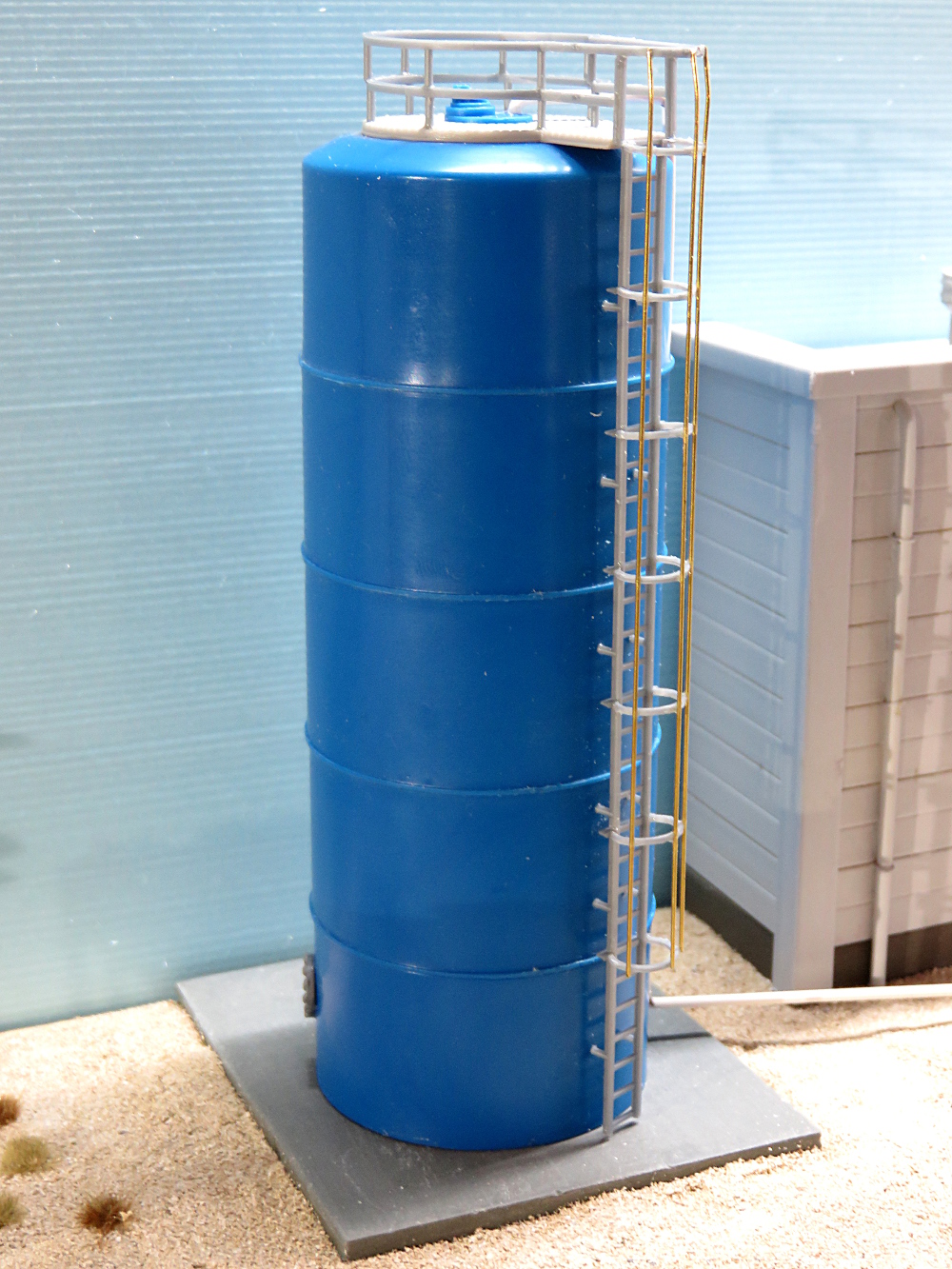 2016-02-07
Finally finished - the first power pole line!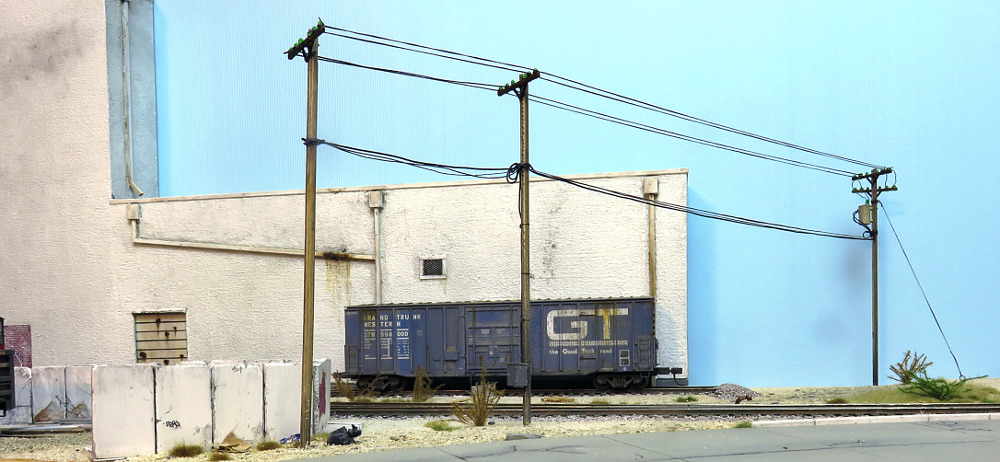 It is coming into the scene by following the street in the foreground, then crosses the tracks and disappears in the back. My module is a cut-out part of the world and so is this part of the power line with only three poles.
What you also can see on this picture: A part of the finished bakery complex, more under Structures.
2016-01-21
Working on some details: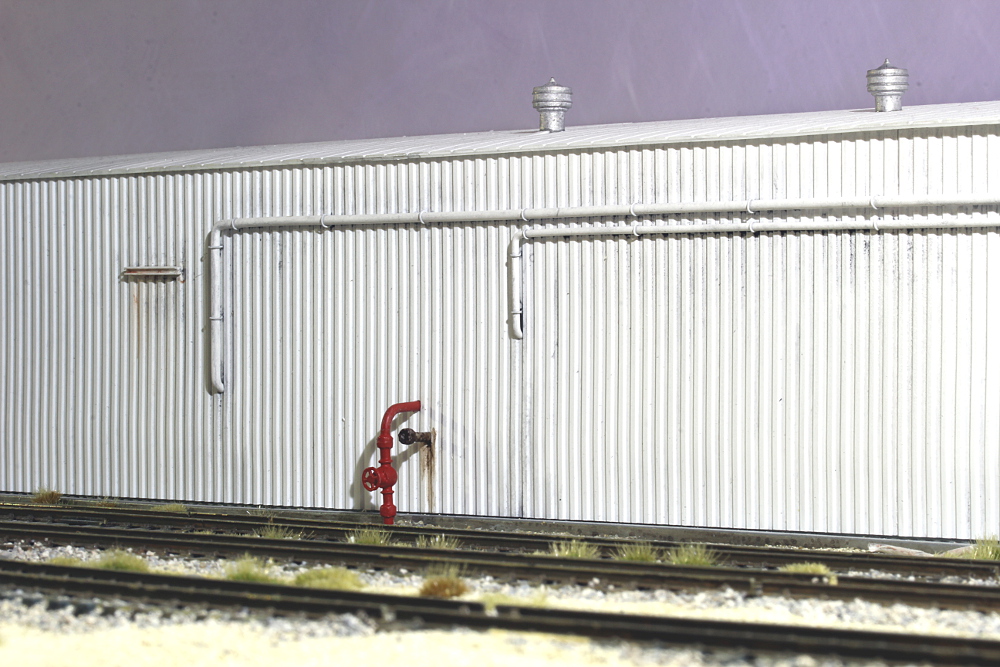 The picture above shows some red pipework and an old unused one nearby.
This pic shows some electrical installation, a power pole nearby will follow. Also new is the trash bag.
2015-09-06
I just added some tiny detail - a forgotten shopping cart; nobody knows how it came to this place!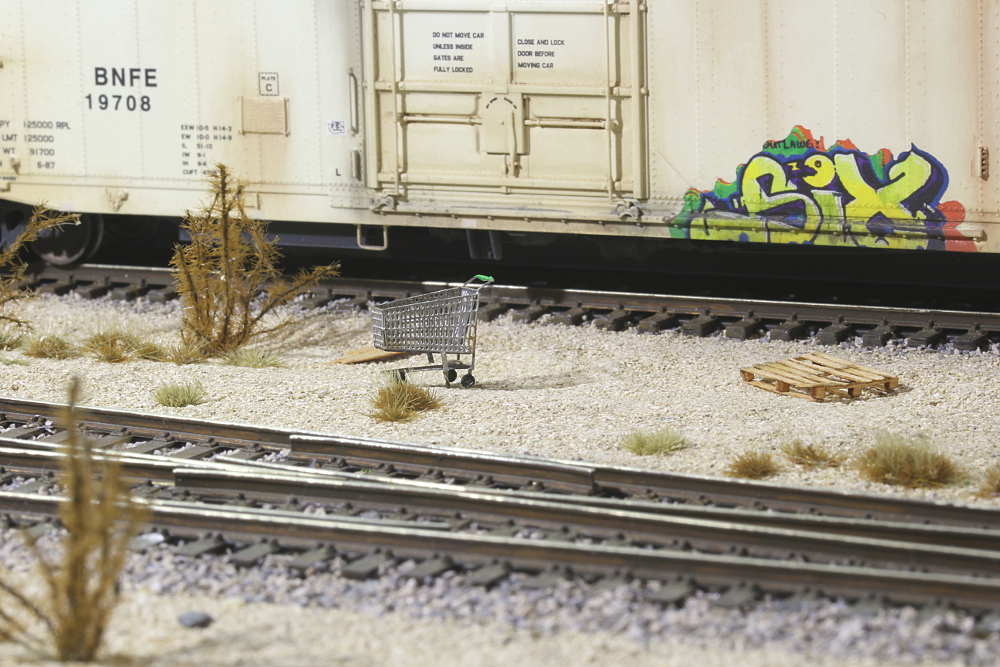 2015-09-01
The second structure is to come - a bakery complex. Here is a first shot from one part of the building:
As usual I'm using styrene, a cutter and glue - that's all. Some details are still missing.
2015-08-31
Last weekend I worked on the grade crossing, more precise I added road markings as decals, weathered the road and sealed all with a matt acrylic varnish: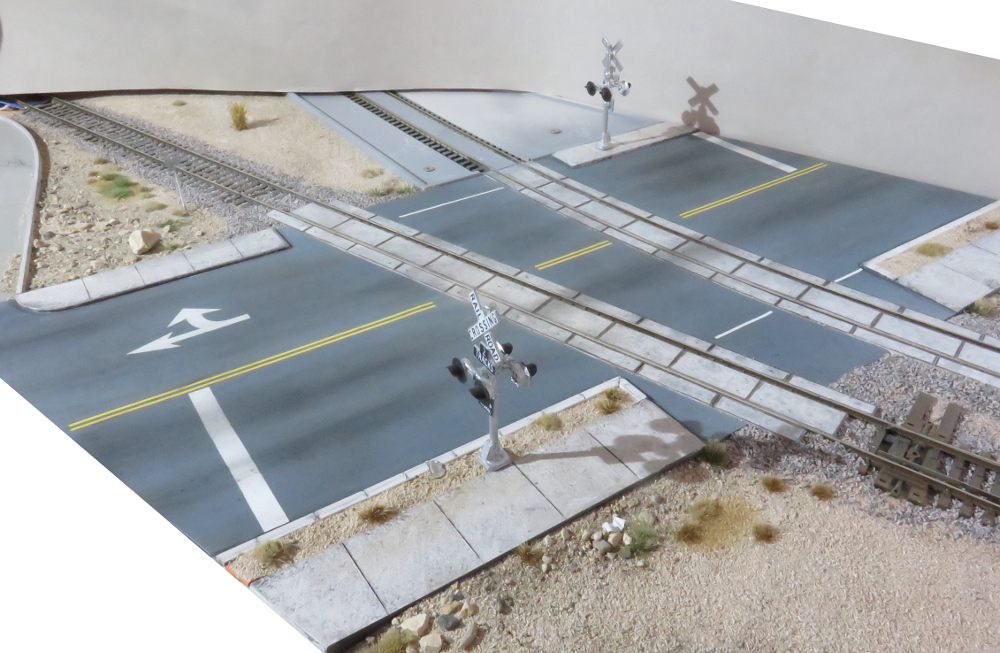 2015-08-29
Dumpsters finished: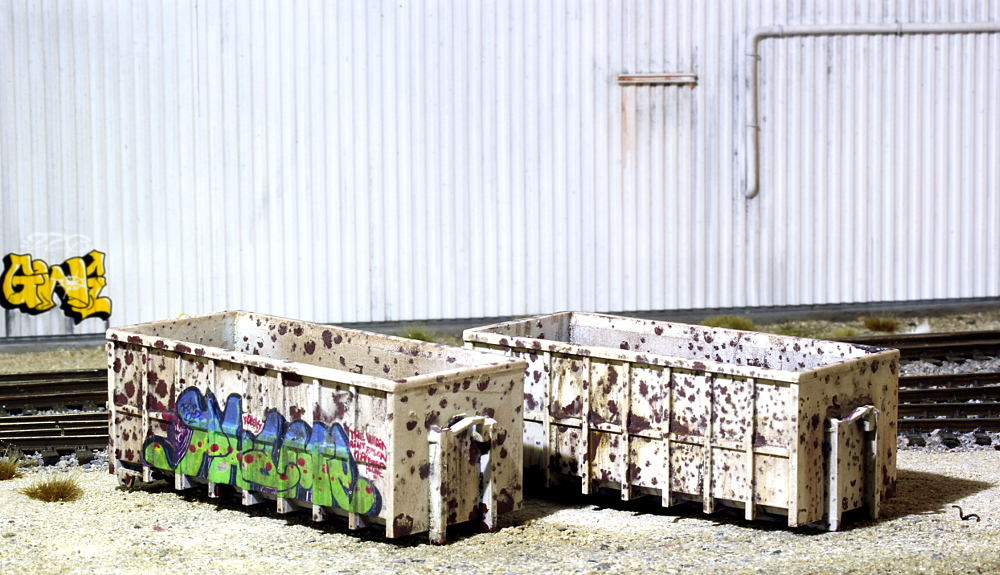 Removing the salt revealed rust spots and after adding graffiti decals and an overall weathering the last step was sealing it with a matt acrylic varnish.
2015-08-27
I just bought three dumpsters for detailing the scenery. They were green and had a vey glossy surface - way to glossy. But the biggest problem was that they were translucent caused by the realistic thin side panels. So they had to be painted.
In a first step I applied a brown/red anti-rust priming coat. It was meant for metal surfaces; applying it to plastic wasn't a problem but it adhered very well to the glossy surface. In a second step I wet all surfaces and scattered some salt randomly over the dumpsters.
The next two steps were a gray and then a white acrylic primer sprayed over as this picture shows: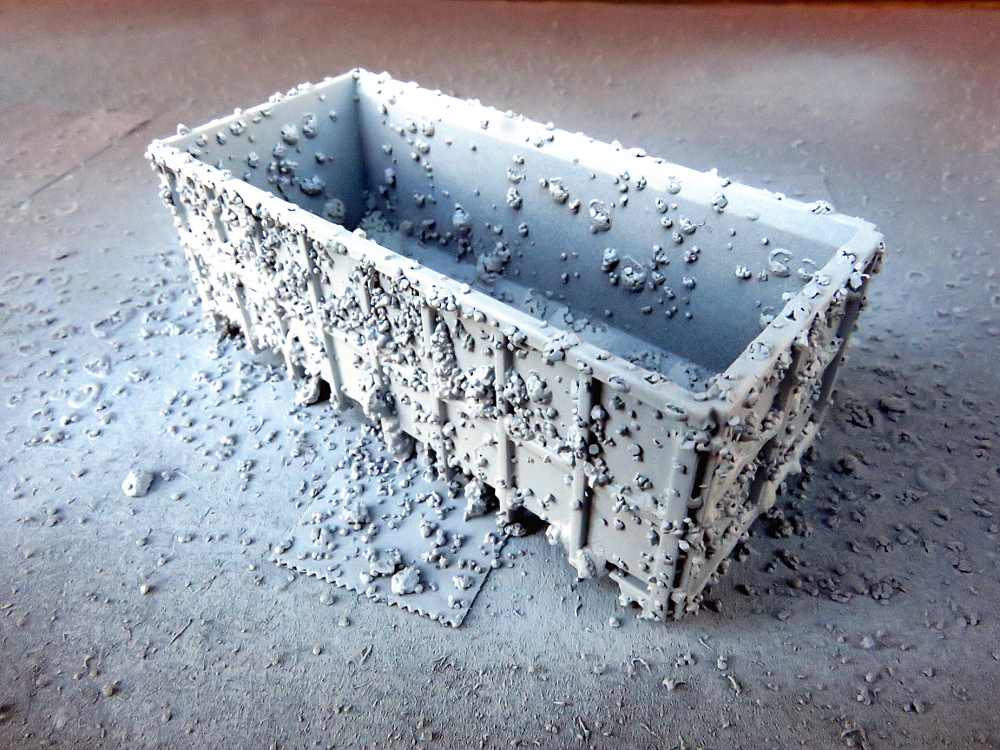 When dry removing the salt under warm water will reveal rust spots all over the dumpsters.
2015-06-21
My FVM GP60M got a new coupler at the front: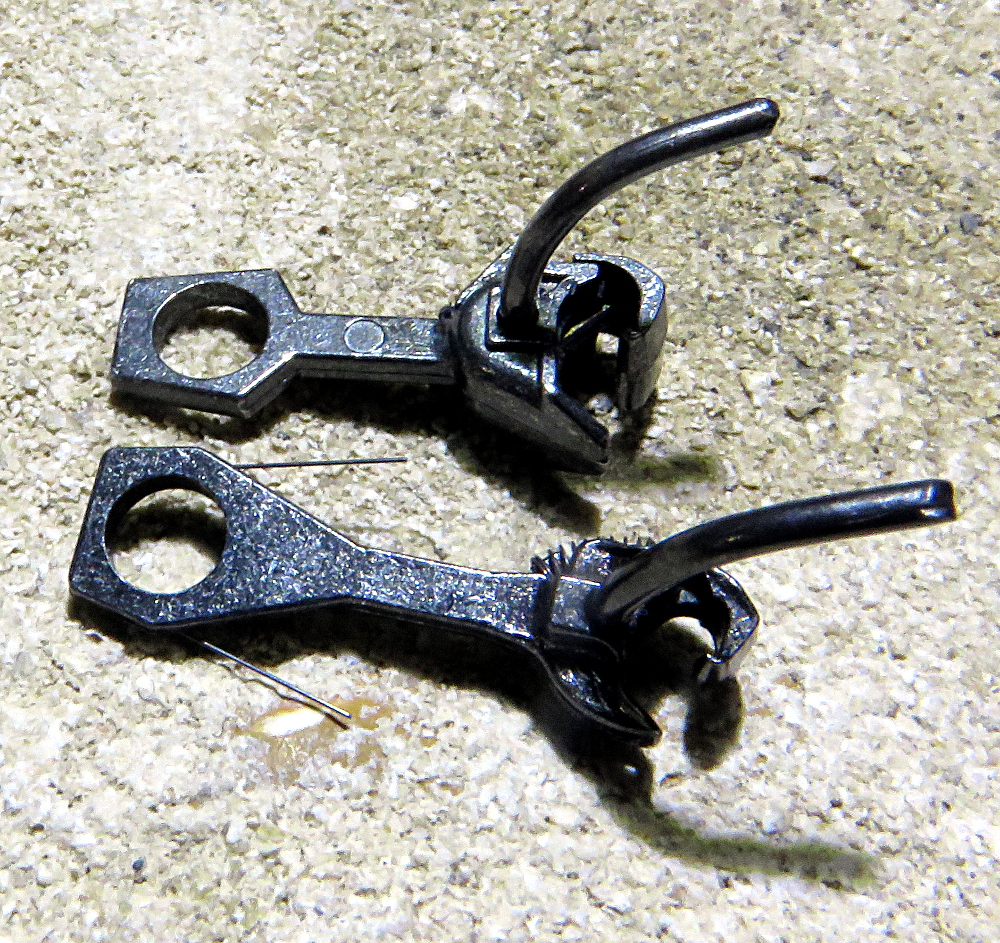 Top: Original FVM coupler, shank too short, does not couple to cars with trip pin
Bottom: Kadee #156 with long shank, couples with cars with trip pin
The overall look isn't too bad: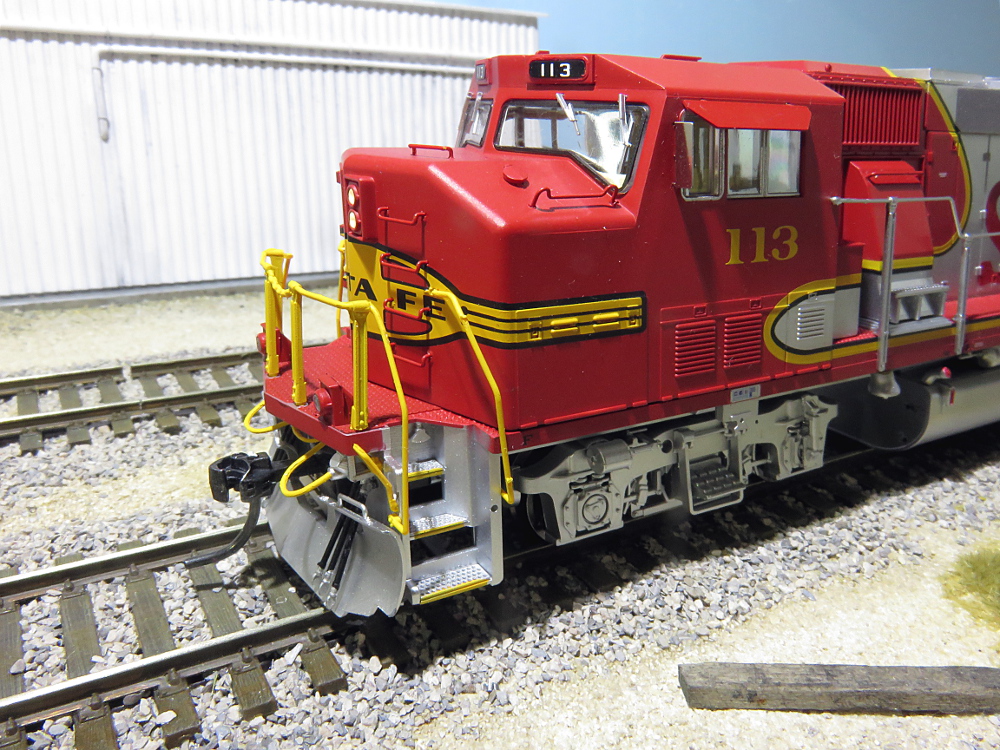 2015-06-20
The product quality of some locos I purchased wasn't as good as it should be:
Intermountain SD40-2: After only 2 or 3 hours of operating it the front lights were defect. I tried a decoder reset to no avail. I returned the loco and at the moment I am waiting for an answer.
Broadway Limited Imports SW 1500: The idle sound was not right, it was much quieter than all other sounds. BLI sent me a replacement decoder which I installed by myself. Now it's all fine.
Fox Valley Models GP60M: One truck did not pick up power because of a not correctly soldered wire. I returned it and got a new loco within a few days.
No problems so far with:
Fox Valley Models GP60B
Broadway Limited Imports C30-7
It is thought-provoking when 3 out of 5 locos have problems right out of the box or shortly afterwards.
2015-06-15
My new Fox Valley GP60M is a beautiful loco - but I cannot couple a car to the front, the coupler is too short: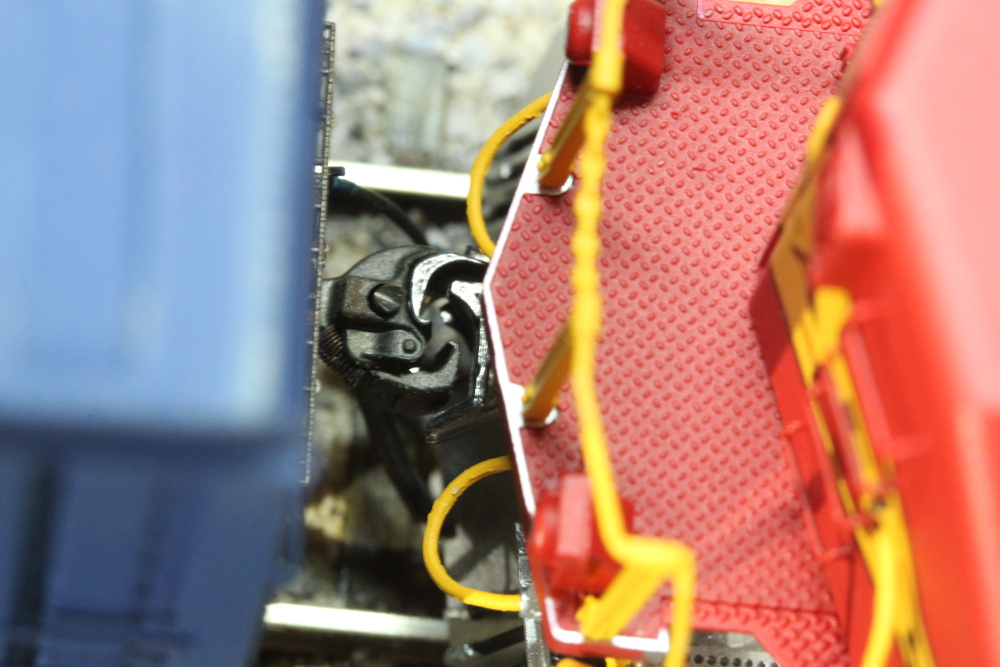 So I am looking for an easy to install replacement coupler which has to be a little longer.
2015-05-05
My Broadway Limited SW 1500 had an issue with the sound - the idle prime mover sound had not the same volume as all other sounds, it was significantly quieter. It was nothing to get accustomed with, it was annoying when operating this loco.
So I decided to write an email to the support since I bought this loco just a few days before and that should be under warranty. Sending the loco back to BLI wasn't the best option since I'm in Germany. Least shipping of items was to send me only a free replacement decoder, which arrived a few days later, a manual how to remove the shell came per email.
Removing the shell wasn't really hard and decoder replacement was really easy - two plugs, to screws and that's it. Surprisingly the most difficult part was to reinstall the shell on the frame.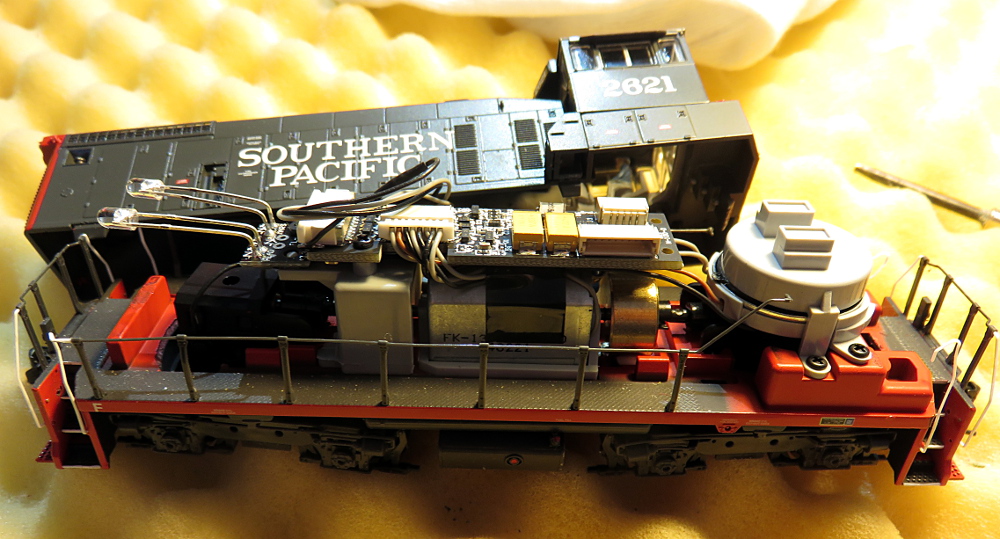 The new decoder has the correct sound volume for all sounds and now it's really fun to operate this loco. I'm very happy with the excellent support of BLI, this was the least complicated way to solve this issue in only a couple of days.
2015-04-27
I want all structures to be removable but fixed on the modules for transport - so they are screwed down to their base plate. Therefore the roof needs to be removable too to have access to the screws (and lightning, coming later). The roof is held in place with magnets: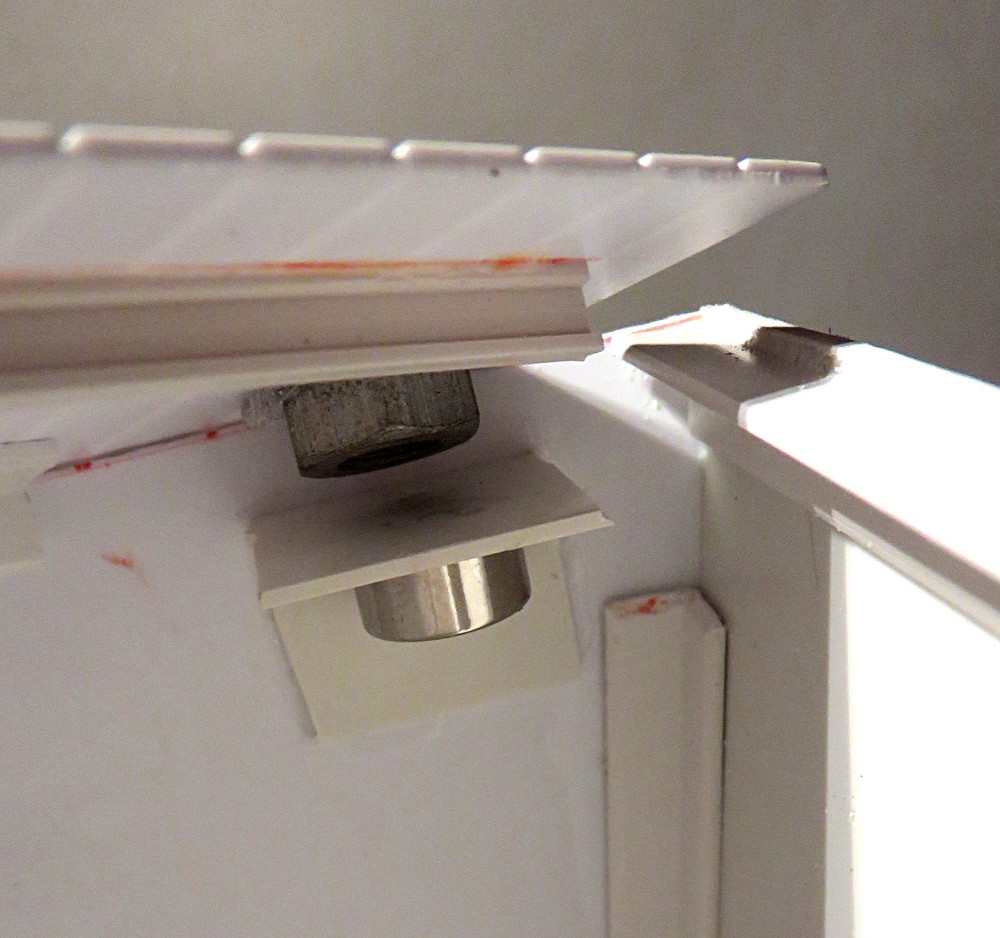 I glued a steel nut to the roof. A strong magnet is glued to the L-shaped styrene. The styrene between magnet and nut is just right to be able to lift the roof without ripping it apart - these small super magnets are really strong! Thus the roof is held in place securely but can be removed within a second.
2015-04-26
At present I'm working on the first structure - a non rail served industry. It will be a nondescript background building just sitting there:

The roof is under construction just now and a few details will follow.
2015-04-21
I produced a lot of scrap the last few days: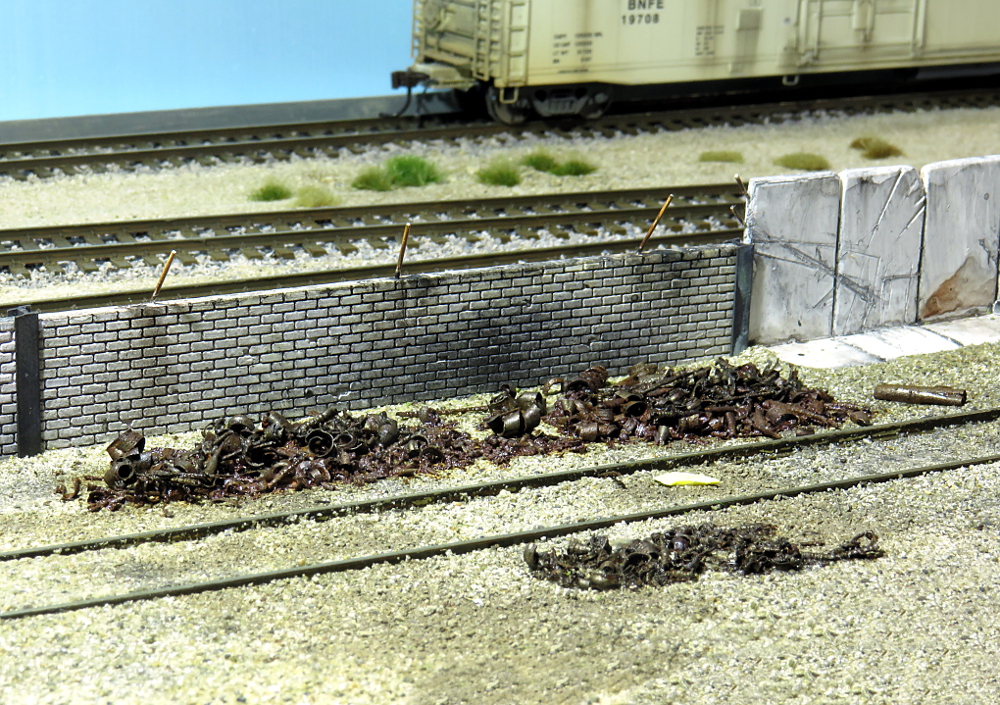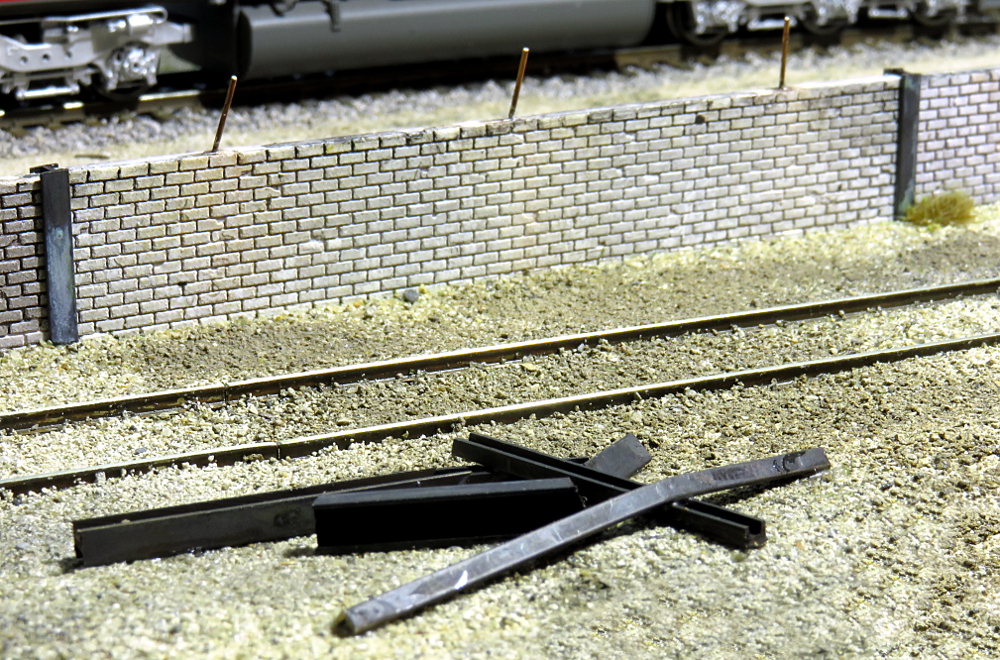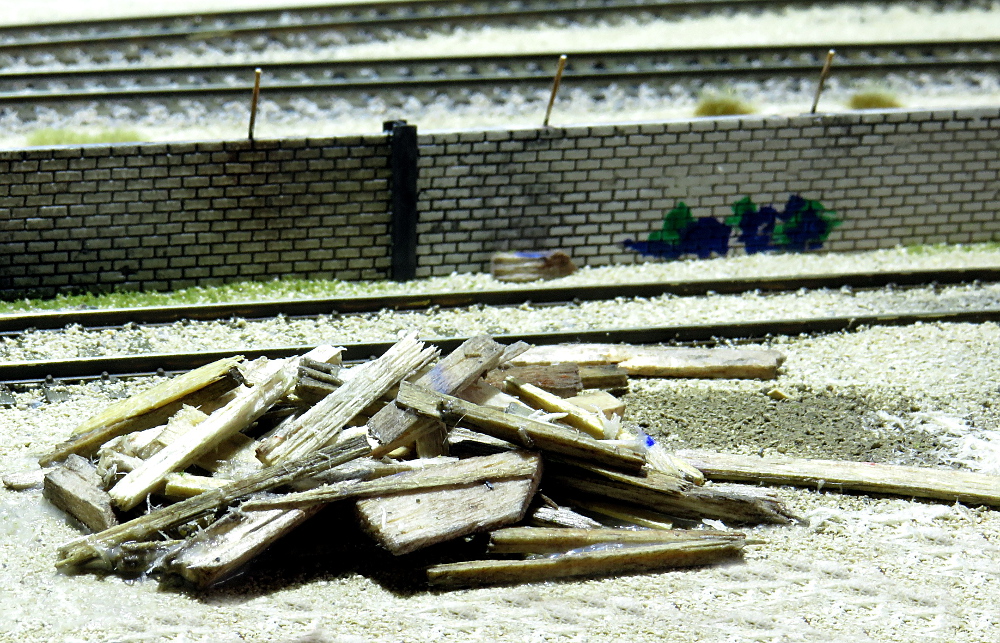 2015-04-19
Added some static grass in two small areas - here is one of them: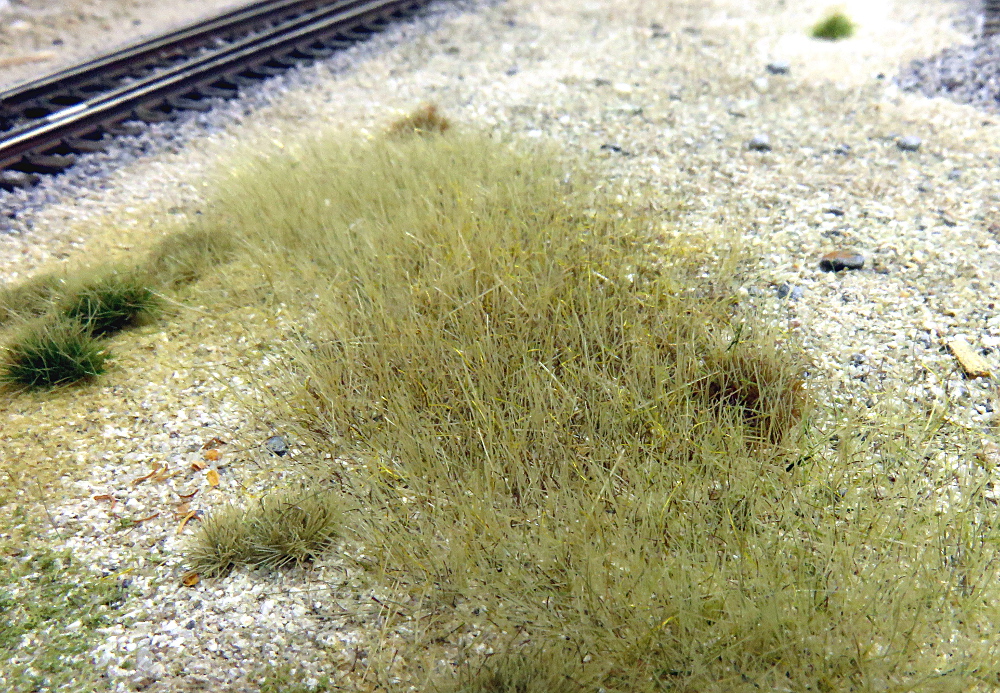 2015-04-16
One more detail of the work in progress: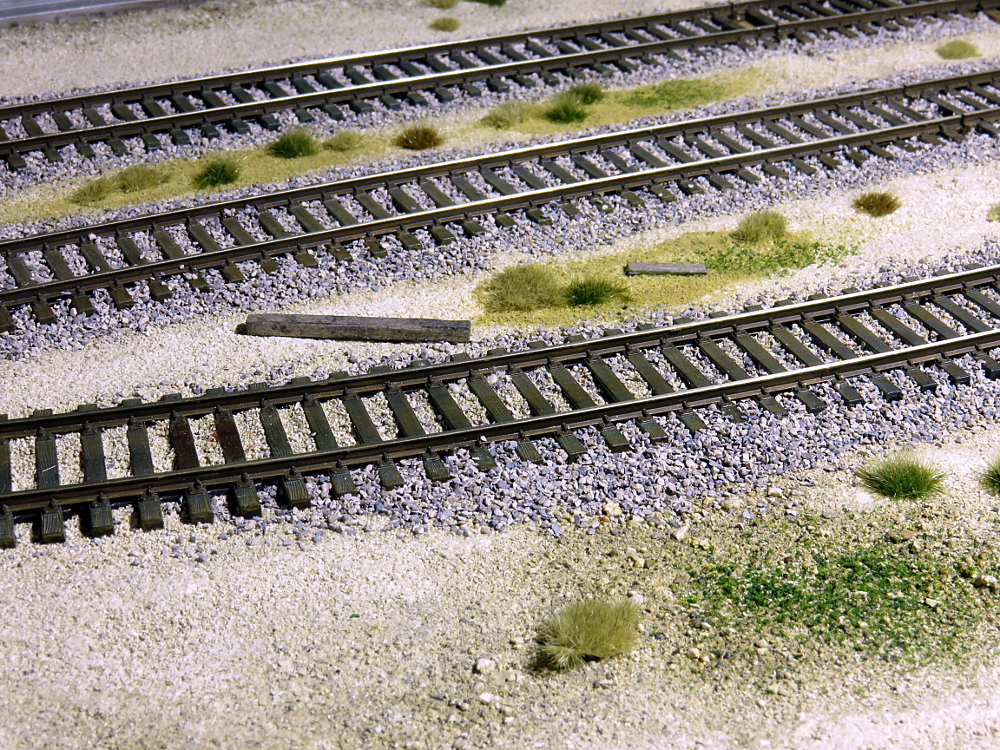 2015-04-15
The grade crossing is completed and I'm working on the scenery now: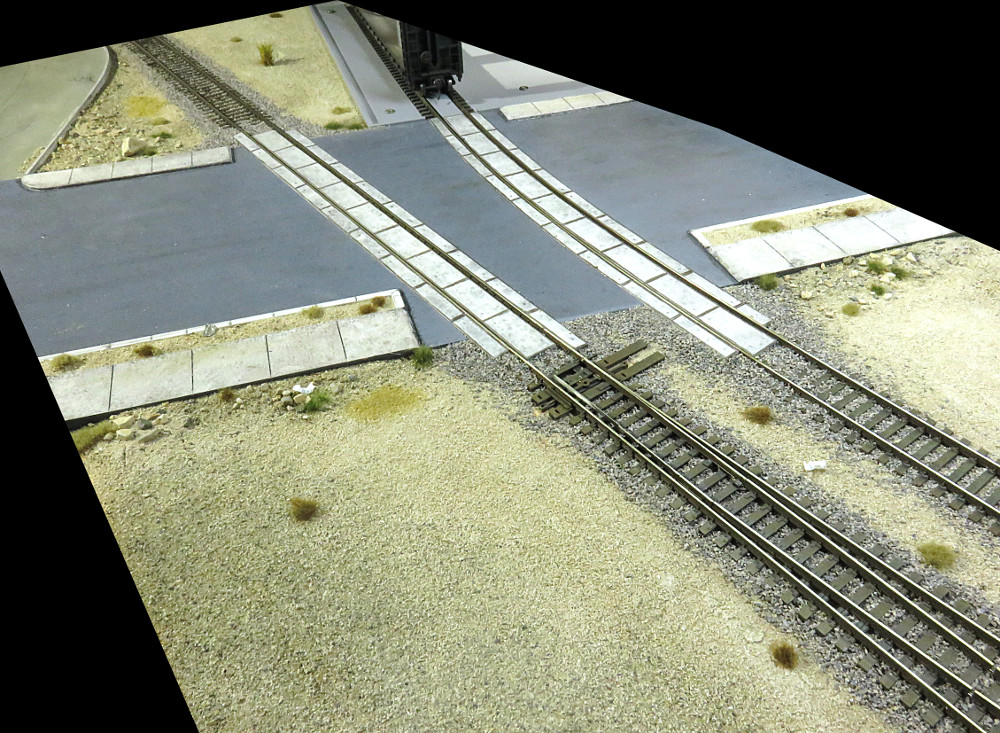 2015-04-12
I'm working on the grade crossing at the left end of the module: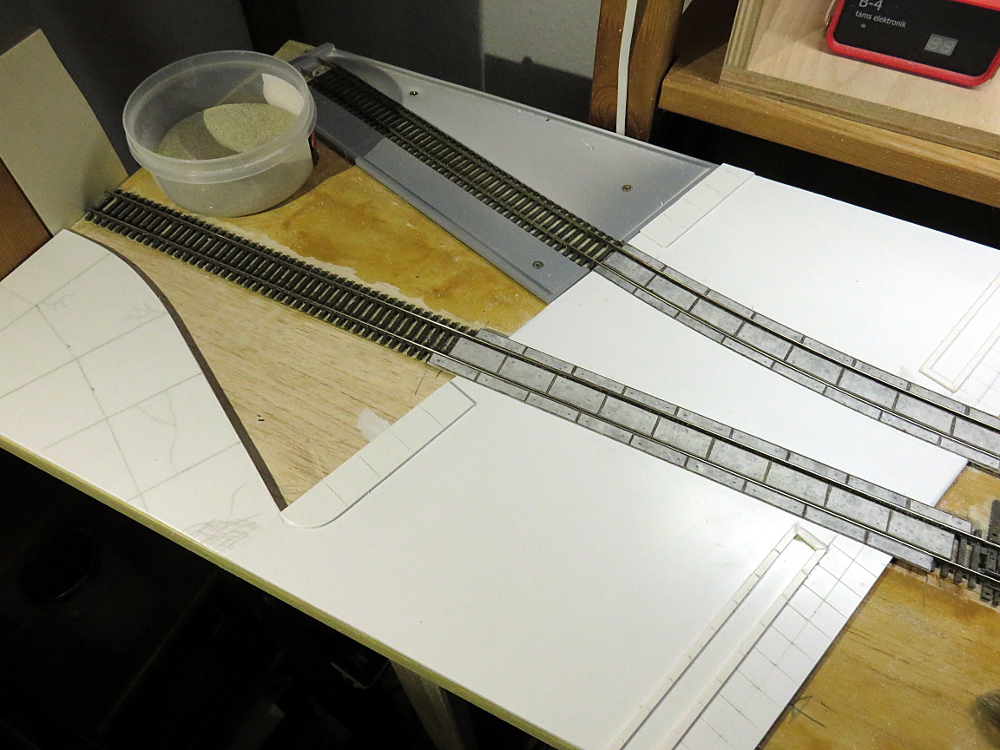 All white parts are roads, placed for a test fit. They will be glued down after applying primer, coloring and weathering. The concrete elements next to the rails are already completed and attached to the ties.
2015-04-11
The road to the right is built in: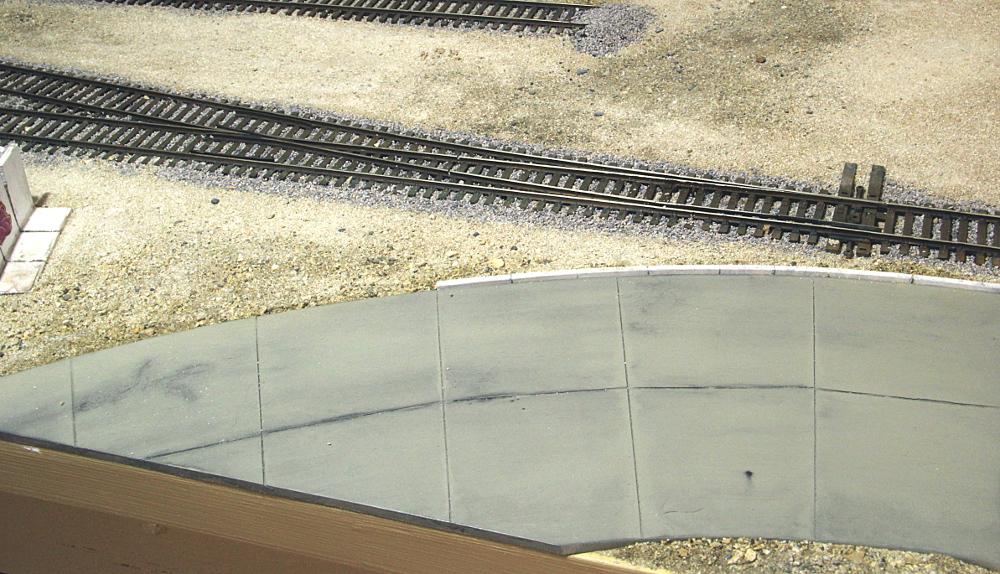 2015-04-08
"The Wall" is finally done: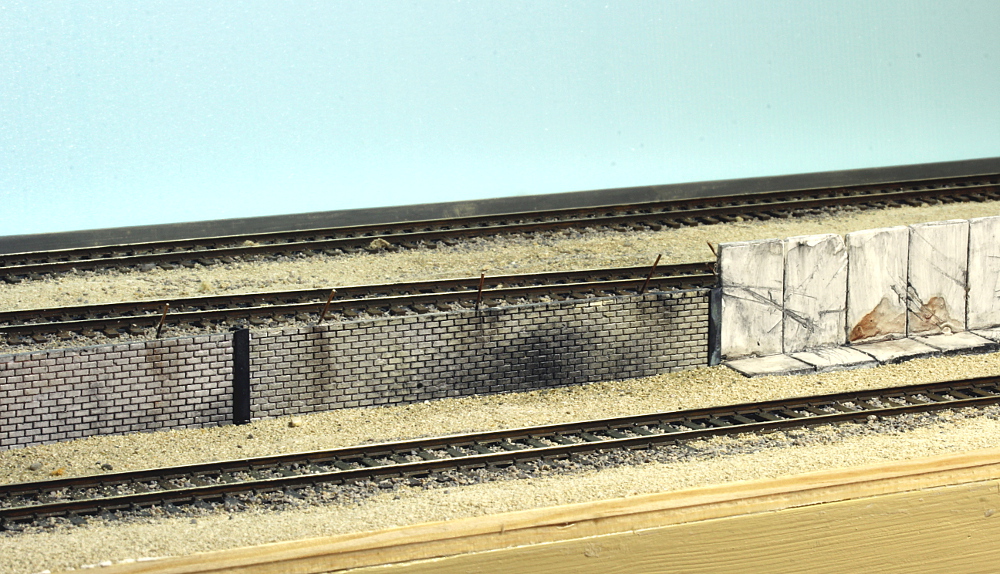 To the left a brick wall, to the right some concrete elements lined up. After applying white primer I weathered it with water colors - I like these for weathering! The last step was a coat of a flat varnish. Details are completely missing for the moment - no barbed wire above the brick wall, no scrap yet, ...
2015-04-07
The ballast I used is Woodland Scenics Medium Gray Blend B94 (identical to Noch 95671). I used it as it is and it's really colorfast as written on the bag - it don't get any darker when wet or glued down. I used the same ballast for all tracks, but with more or less accuracy: really nice done on the main, rather sketchy on some spur to an industry.
First I wet all with a mix of rubbing alcohol and water (read in a book of Pelle Soeeborg), than I apply diluted white glue. I don't want to have any of it on the top of my weathered ties because white glue (even if diluted) gives a glossy surface when dry - so I needed the right tool for it (the local pharmacist will help).
The picture shows from top to bottom: industrial spur ballasted poorly, siding with rather accurate ballasting, glue applicator, main with rather accurate ballasting.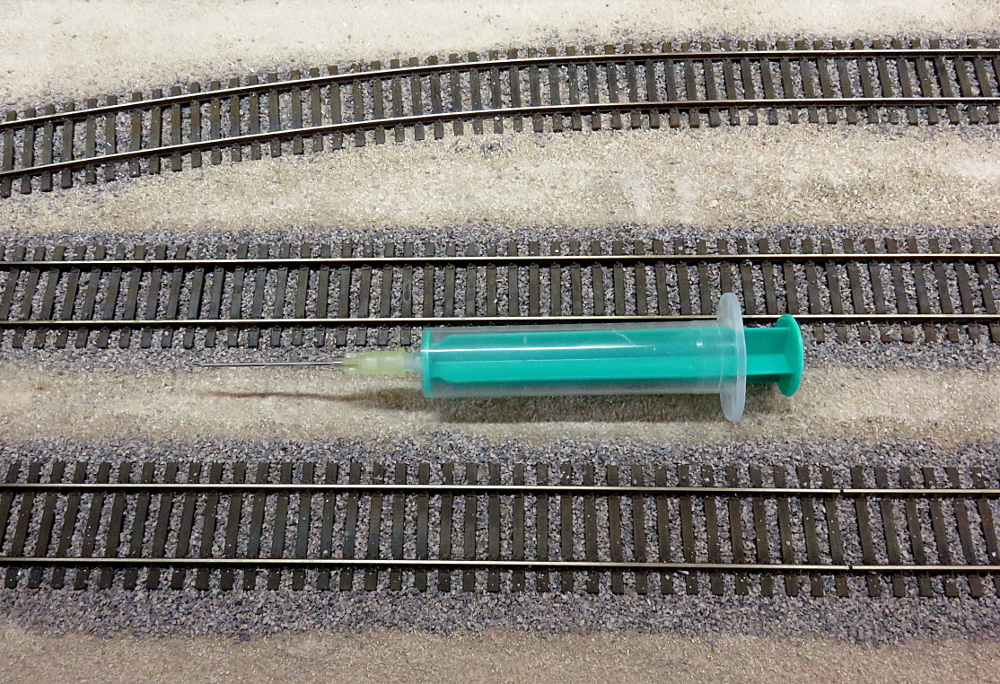 2015-04-05
I got the first turnout ballasted: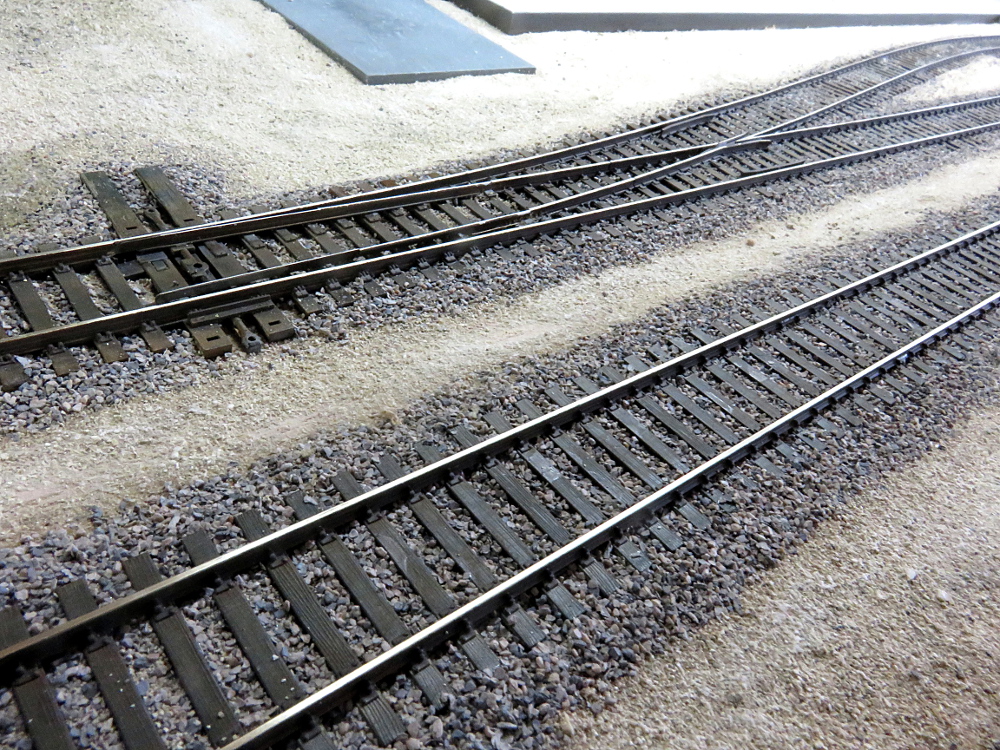 ... and it's still working! :-)
Do avoid getting glue into the hinges I applied some machine oil to these critical parts before messing with glue.
2015-04-03
Started ballasting on a spur: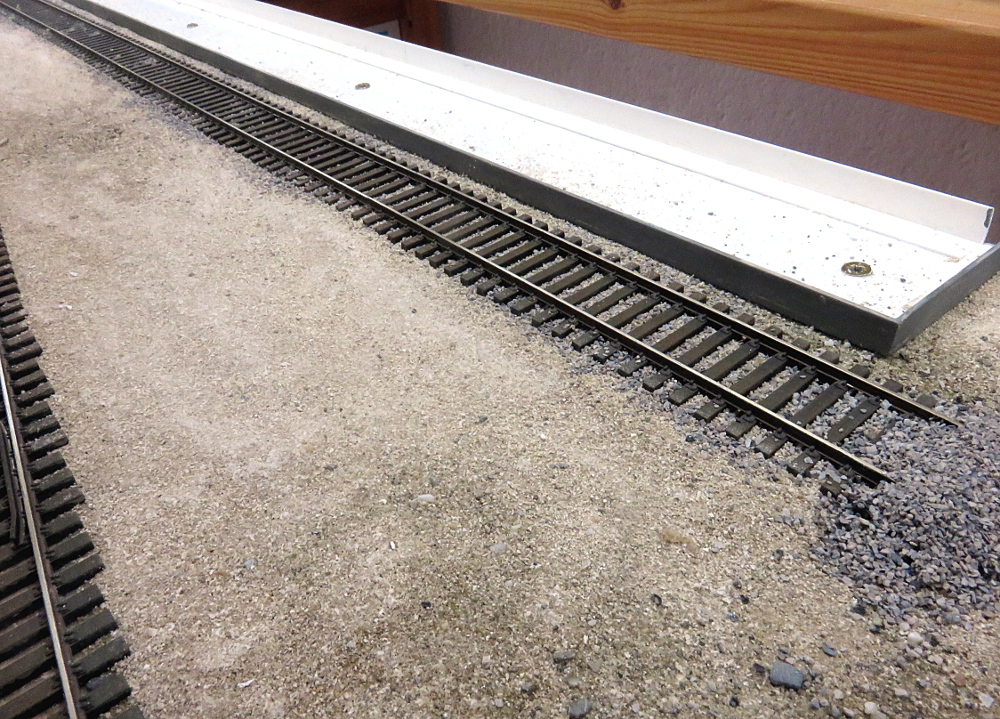 The look I wanted is a track "just thrown in the dirt". At the rear of the module you can see the baseplate of a structure.
2015-03-31
"The Wall":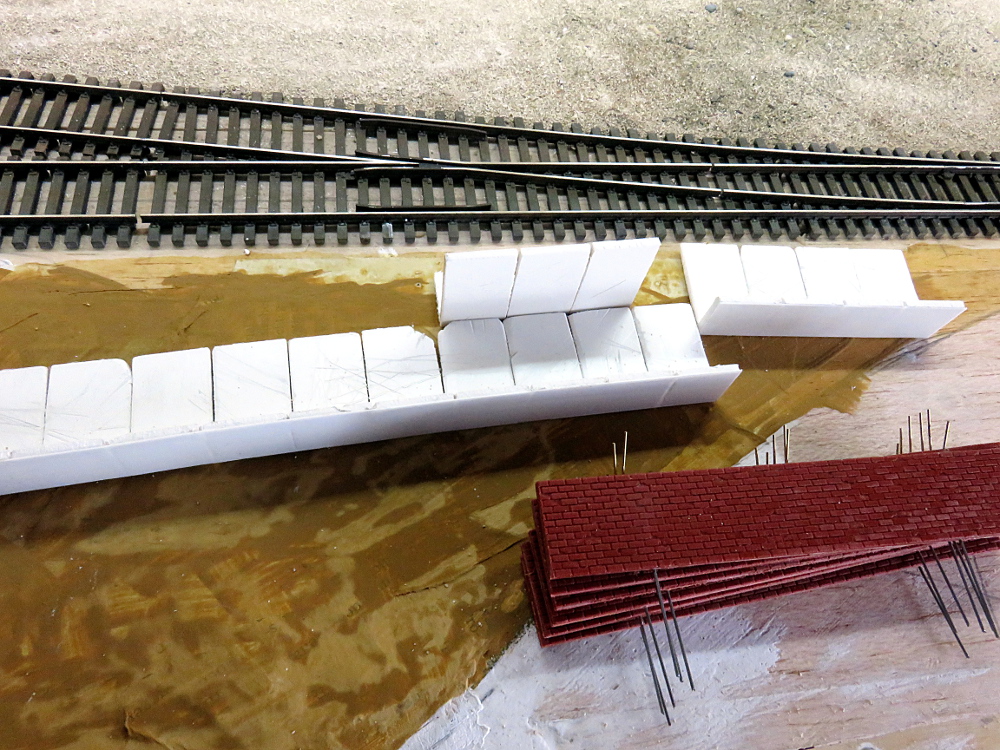 I'm preparing the parts of the wall around my scrap yard, see above. Next is applying primer, coloring, weathering and installing these parts. The white parts will model concrete elements standing by themselves, the brick wall is installed via the two rods at the bottom. The rods at the top are for barbed wire to be installed later.
2015-03-25
Now I'm working on the scenery - the first ground cover is done: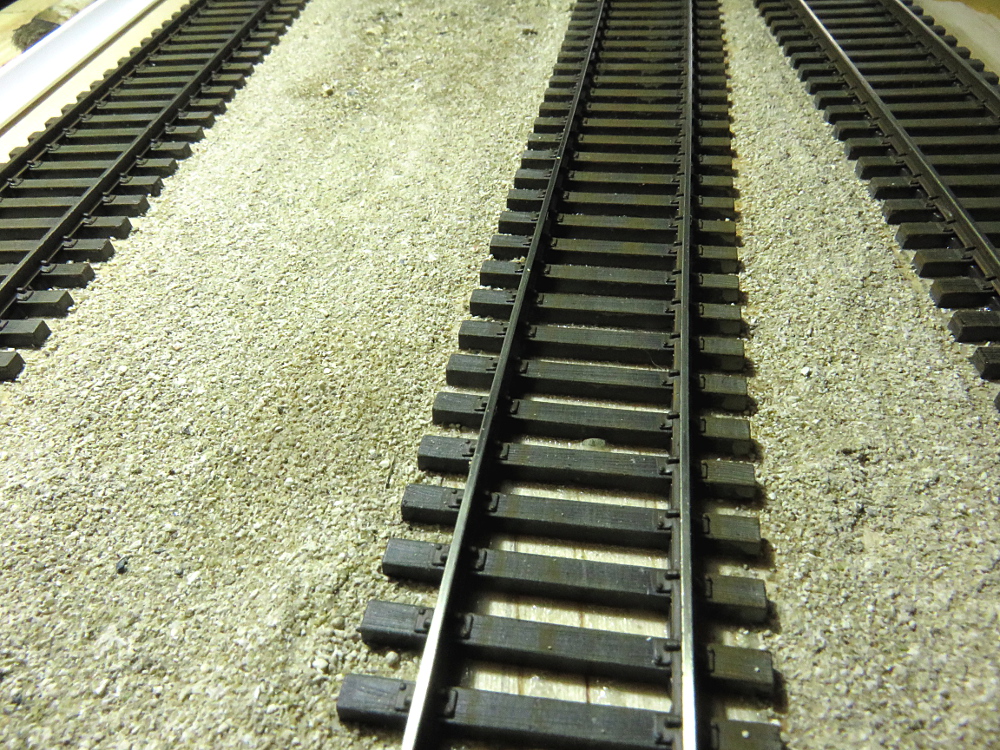 This is only the first step in scenery - to convert a plywood desert in a somehow "real" desert.
2015-03-14
Instead of a manually drawn trackplan a version combined of two photos is shown here:

Above left: Southern Custom Stamping
Above right: Alexa's Bakery
Bottom right: Scrap & Metal
I already added a small extension board to the right as a "one-track-fiddle-yard" and in order to be able to use the siding as a run around. An extension with a third segment in the middle is already in my mind - this would lengthen all and add a reasonable team track.
2015-03-12
I tried a lot of different techniques to weather my ties and rails - finally I ended up with dry brushing the ties and then painting the rails with a brush: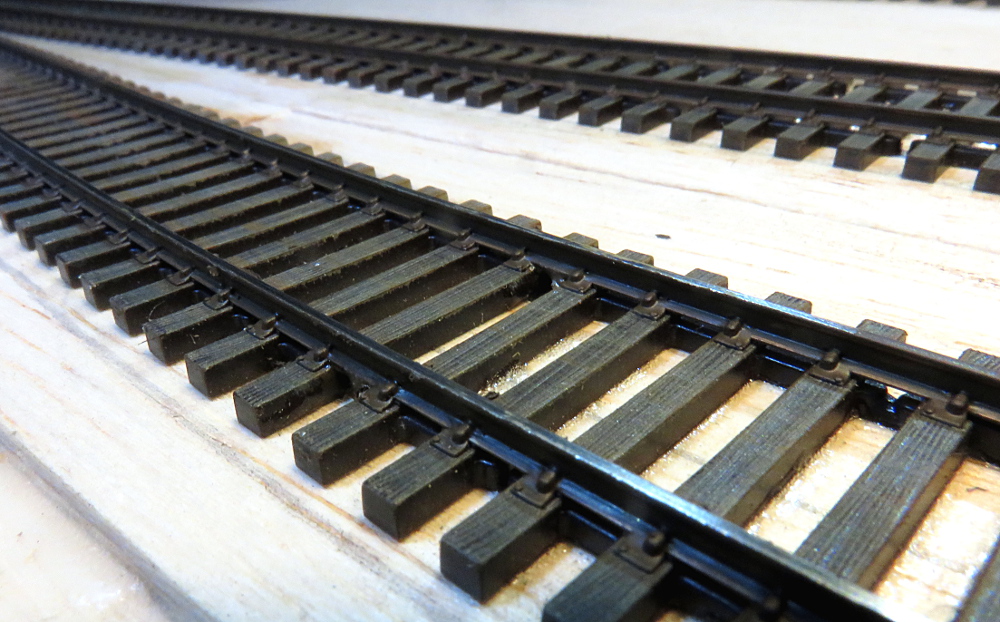 2015-03-03
Electrics were done - now test driving a lot was next. A loco showed a strange behavior, especially on the turnouts, sometimes leading to a derailment. Loosely laid track? A turnout problem?
Watching this problem closely showed one truck of the loco not to be oriented straight, but always sloped to the rails - why? Further investigation showed that this truck could not swivel freely from one side to the other.
So I decided to strip down this (brand new) locomotive until I would have found and solved the problem. Finally it was a small sprue left over at the truck: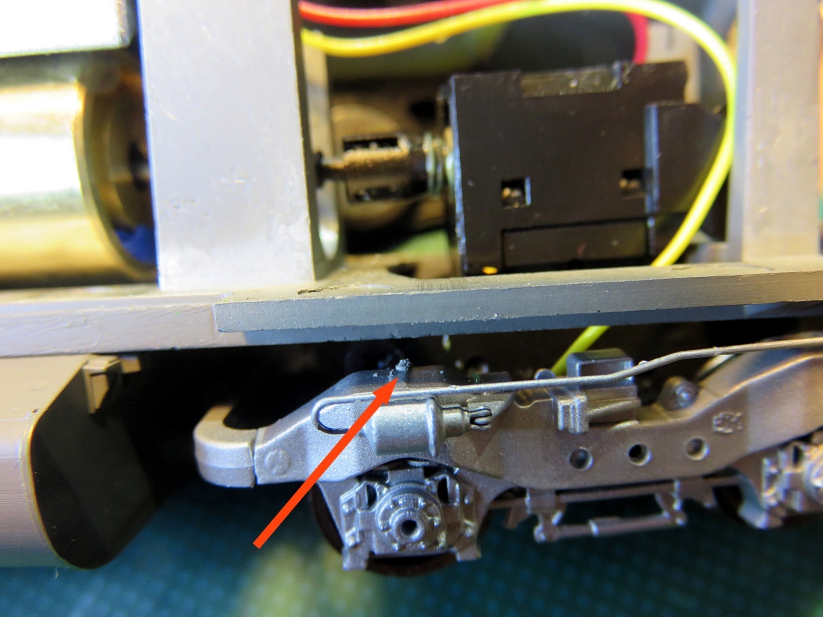 After removing this small part (less than one millimeter in height) everything was fine and ran smoothly!
2015-02-28
After finishing all the trackwork all the feeders had to be connected: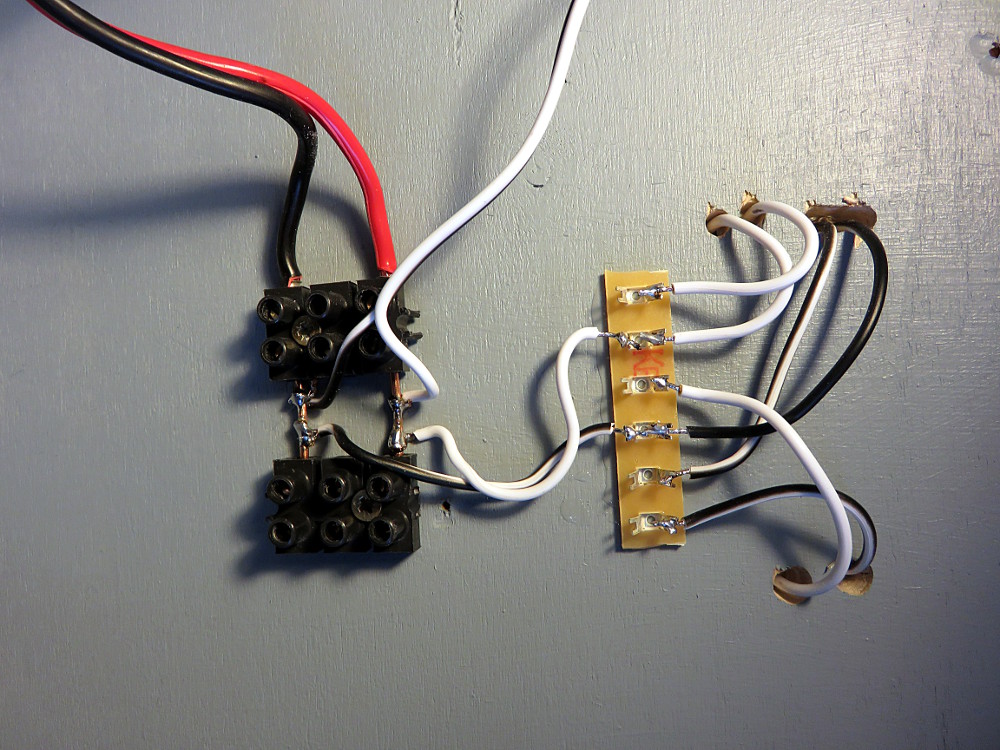 2015-02-27
The Golden Spike - track laying is finished: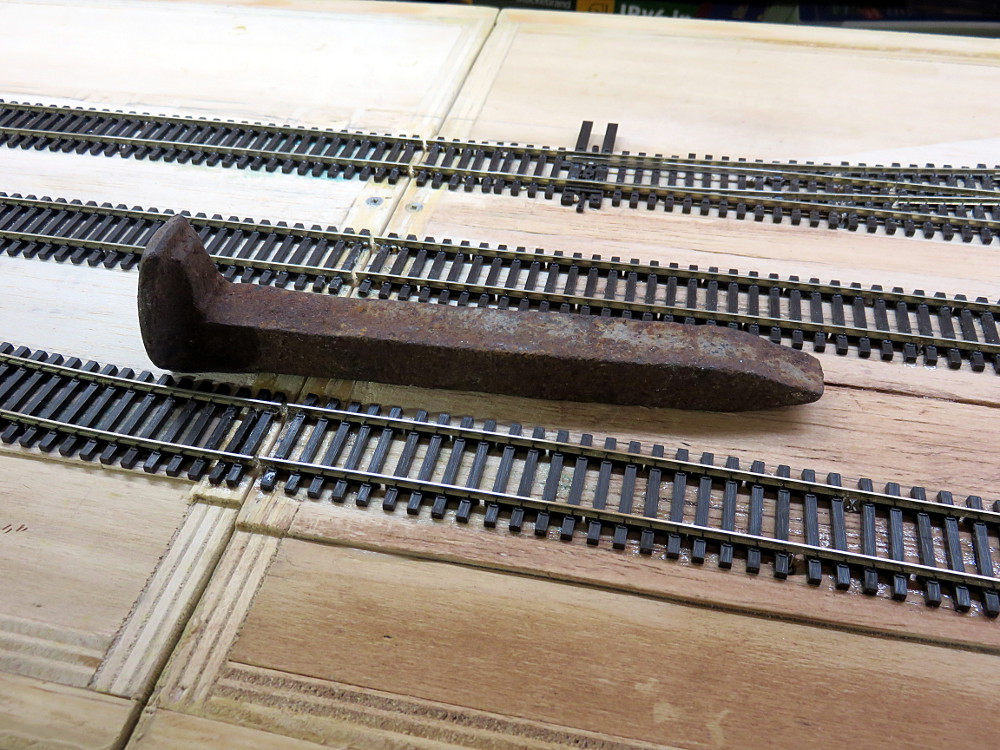 2015-02-25
A small detail of how I attach feeders to the rails: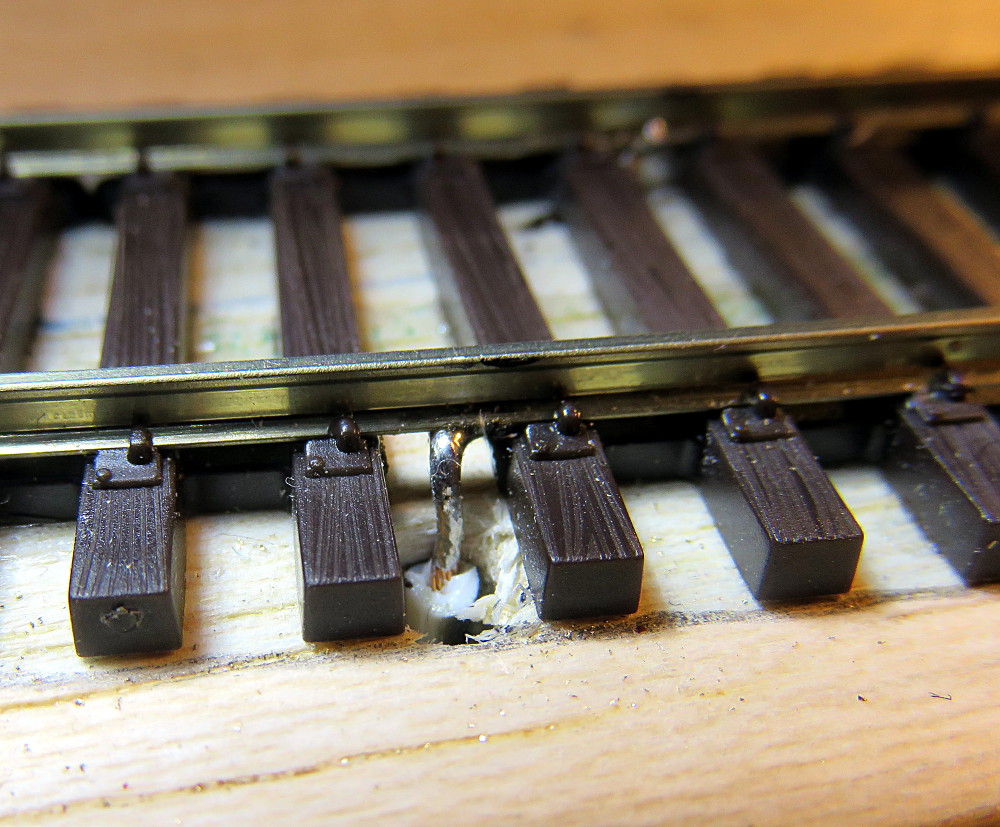 I always solder the feeder wires to the bottom of the rails before installing the track. After ballasting they won't be visible at all.
2015-02-24
All track is laid down - here he interesting part between the two segments is shown. Now the rails can cut apart: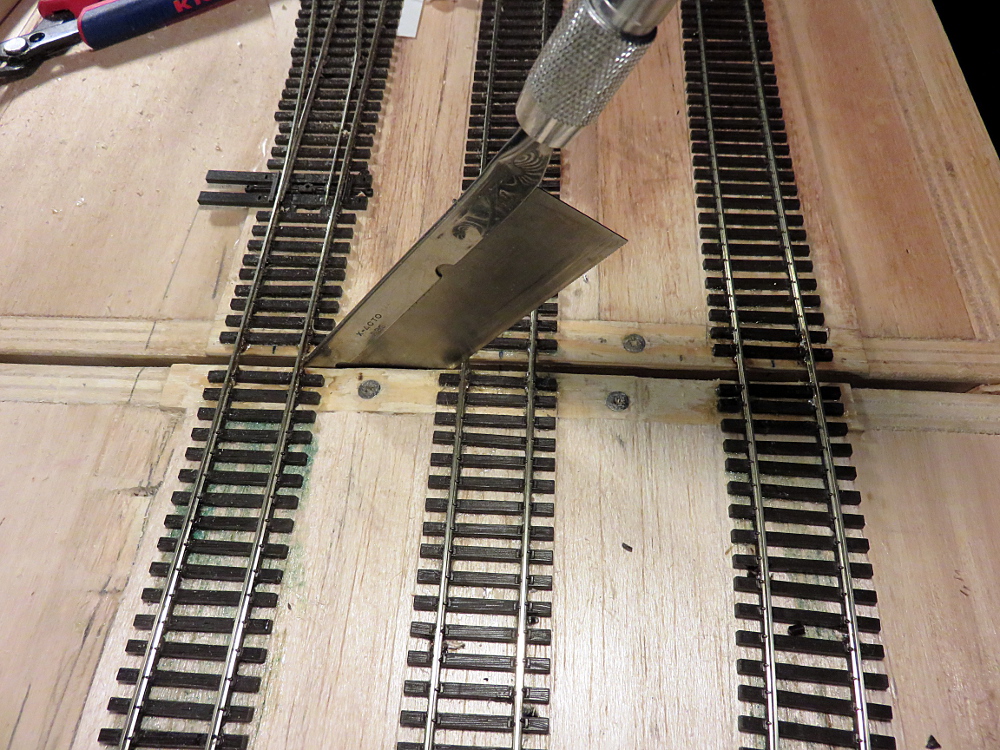 2015-02-19
I'm working on the last few tracks - the three tracks between segment #1 and segment #2. This needs to be rather sturdy to avoid hassle at this point in the future.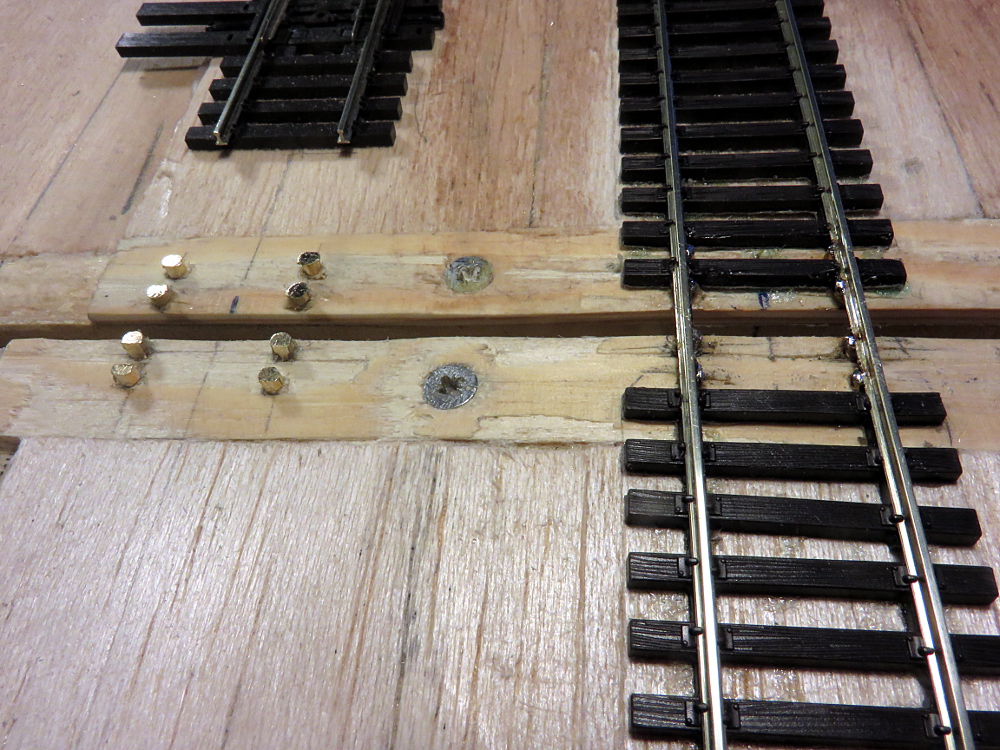 Each single rail is soldered to two cut brass screws mounted at the end of the segments. The track is laid continously over both segments. The segments are mounted momentarily with some distance to give room for a small saw to cut the rails when all three tracks are mounted.
2015-02-08
The modules are NAI35-style - see FREMO homepage: http://www.fremo-net.eu/355.html
A first look at the partially completed trackwork of "Somewhere Southwest" - at the moment one module in two segments: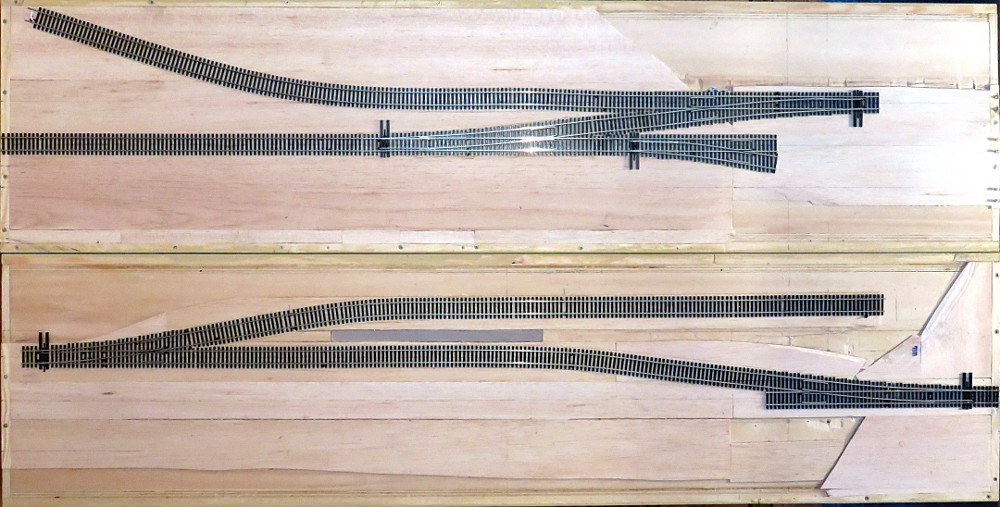 The feeders are already installed - soldered to the bottom of each piece of rail. (BTW: Peco Code 83, Electrofrog)
At the end of each segment cut brass screws secure the rails - soldered atop: